The deep snow that fell Monday on much of Kansas didn't make its way to Lawrence, but area farmers were smiling anyway, thanks to the rain.
"This was a great rain. It was really needed," said Jason Flory, who has a farm south of Lawrence.
Mark Wulfkuhle was happy when his rain gauge recorded an inch of moisture Monday afternoon on his farm near Clinton.
"This rain is really going to help," Wulfkuhle said. "The snow isn't really going to matter much."
The rain came as Gov. Kathleen Sebelius on Monday expanded the state's drought alert to include 80 of the state's 105 counties. Drought watches were declared for the remaining 25 counties, including Douglas County.
Even though the storm that came on the first day of spring dumped a foot of snow in some places of western and northwestern Kansas, it was not expected to be enough to break the ongoing drought.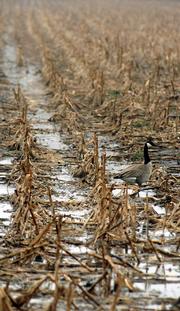 "These drought alerts are intended to raise Kansans' awareness and encourage them to review water conservation plans and to take other steps, such as being extra careful with outdoor fires," Sebelius said.
Kansas experienced one of its driest winters on record. Precipitation totals for January and February combined averaged just 0.41 inches statewide, according to the governor's office. Only the years 1917, 1923 and 1970 got off to a drier start.
For farmers, wheat is generally the only major crop already planted and growing this time of year. Most Douglas County crop farmers grow corn and soybeans, but Wulfkuhle also has wheat.
"We weren't in too bad of shape yet, but we had some late-planted wheat that didn't have its roots established yet," he said.
Flory doesn't plant wheat, but he noted the rain would help replenish the subsoil moisture for the soybeans and corn he would plant later.
"The ponds were in pretty good shape," he said. "We were in great shape compared to all my friends in Oklahoma and Texas."
Copyright 2018 The Lawrence Journal-World. All rights reserved. This material may not be published, broadcast, rewritten or redistributed. We strive to uphold our values for every story published.