The cool weather better fit the Christmas season, but instead of red, green dominated downtown Lawrence on Friday as thousands thronged Massachusetts Street for the annual St. Patrick's Day Parade.
"Things are a little calmer this year," Bobbie Reid said as she stood with her husband, David, and the rest of her family watching the parade. "It's a little colder, but it keeps the kids quiet."
Despite the cold, the Reids enjoyed the parade, just as they have almost every year they could remember. They got an early start, claiming a parking space in the 1000 block of Massachusetts three hours before the 1 p.m. parade start.
"You've got to, or you'll have to park six blocks away and walk in," David said.
Nick Luna and Ashlei Reeder found that out the hard way.
"We haven't been here very long," Reeder said as the hourlong parade reached the halfway mark.
"We drove around a half hour trying to find some place to park," Luna said, as he held the couple's bundled up 6-month-old son, Nicholas Luna Jr.
Photo Gallery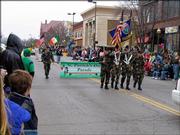 St. Patrick's Day Parade 2006
This year's 19th annual parade began at South Park, where about 100 entries gathered. They included floats, cars, bagpipe players, motorcycles, bands and even green fire trucks. The parade ended in North Lawrence.
Before the parade, members of the McDonough family from Lawrence and the Kansas City area readied their green 1953 fire truck in the parking lot behind the Douglas County Judicial and Law Enforcement Center, 111 E. 11th St. But not all of the family members were true McDonoughs.
"I married a McDonough," said Rob King, as he loaded a cooler onto the back of the fire truck.
A block away, employees with The Windsor, 3220 Peterson Road, an assisted living center, put the final touches on their float, which had a Wizard of Oz theme.
Nicole Esparza, a certified nurse's assistant, was dressed like Dorothy, right down to the ruby-colored shoes.
"I'm going to click my heels and wish to go to Ireland," she said.
The parade entries weren't the only attraction. People watching the parade donned various shapes of green hats, which sometimes covered green hair, shirts, and even green-painted faces. Dogs were dressed in green.
"You can people watch," said Maureen Osborne, who watched the crowd and the parade with her husband, Bill Osborne, while wearing a green coat.
"It's an entertaining way to spend an afternoon," said Bill Osborne, sporting a green hat.
Parade winners
Here are the results of the float contests from this year's St. Patrick's Day Parade:
Grand prize Traveling Trophy: Combs Custom Cycle and Slow Ride Roadhouse
Commercial: 1st place: Berry Plastics 2nd place: The Music Club House 3rd place: Lawrence Humane Society
Family: 1st place: McDonough Family 2nd place: Bert Nash WRAP program 3rd place: Jayhawk Model Masters
Best Dressed Adult Irish Folk: Shane Coffey, Jester with Dragon Dog
Best Dressed Wee Little Irish Folk: Alijah Kraus, as Scary Leprechaun on back of a motorcycle
Copyright 2018 The Lawrence Journal-World. All rights reserved. This material may not be published, broadcast, rewritten or redistributed. We strive to uphold our values for every story published.