Kabul, Afghanistan — A roadside bomb killed four U.S. troops passing by in an armored vehicle in eastern Afghanistan on Sunday, the deadliest attack on coalition forces in a month.
In Kabul, a suicide bombing Sunday killed two people and narrowly missed the chief of Afghanistan's upper house of parliament, and he accused Pakistani intelligence of trying to assassinate him.
The two bombings were the latest in a series of militant attacks that appear to be gathering intensity four years after the ouster of the hard-line Taliban regime by a U.S.-led invasion.
The four American troops died when their vehicle was hit by an improvised explosive device in the Pech Valley in Kunar province as they patrolled to keep a road open to civilian and military traffic, military spokesman Col. Jim Yonts said.
Kunar Gov. Asadullah Wafa said the blast went off as a convoy of six American vehicles was passing at 4:15 p.m.
Yonts accused militants of launching "cowardly" attacks, placing bombs and detonating them from a distance. He said that would not deter the U.S.-led coalition from their mission of defeating Taliban and al-Qaida militants and establishing lasting security.
Sunday's bombing raised the death toll of U.S. military personnel in the region to 220 since a U.S.-led offensive toppled the Taliban regime in Afghanistan in late 2001. It was the deadliest attack since Feb. 13, when a roadside bomb killed four American troops traveling in an armored vehicle in central Uruzgan province.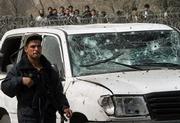 Also Sunday, a car bombing in the capital targeted Sibghatullah Mujaddedi, a Muslim cleric who briefly served as president in 1992. He now heads the new Meshrano Jirga, or upper house of parliament, and leads a commission encouraging Taliban fighters to reconcile with the government.
Mujaddedi escaped with burns to his hands and face but two bystanders, a girl on her way to school and a man on a motorbike, were killed. Five others were wounded, and the two attackers who drove the explosives-laden station wagon into the convoy died.
"The explosion was very strong. For a while I couldn't see anything. I was in the front seat of my car. I saw a big fire came toward me," the white-bearded Mujaddedi told a news conference a few hours later.
His hands were wrapped in bandages - burned when he raised them to protect his face from the blast.
President Hamid Karzai condemned the bombing as "an attack on the voice of Afghanistan and clerics of Afghanistan." He did not blame anyone outright but said he had received information two months ago of a plot to "attack important personalities in Afghanistan."
Mujaddedi was more forthright, directly accusing Pakistan's Inter-Services Intelligence agency for the bombing. He offered no proof.
"We have got information that ISI of Pakistan has launched a plan to kill me," he said.
Islamabad dismissed Mujaddedi's charge.
"Pakistan rejects the baseless allegations," Pakistan Foreign Ministry spokeswoman Tasnim Aslam said.
The accusation likely will aggravate deteriorating relations between Afghanistan and Pakistan, two key allies in the U.S.-led war on terrorism.
Meanwhile, the governor of the former Taliban stronghold of Kandahar confirmed that four Albanian and four Afghan employees of a German company that treats water supplies at U.S. and Afghan army bases were kidnapped Saturday in neighboring Helmand province. He did not identify the kidnappers.
Qari Mohammed Yousaf, who claims to speak for the Taliban, said in an earlier call to The Associated Press that the militia was responsible but had yet to issue any demands. He said the eight men were in good condition.
Copyright 2018 The Associated Press. All rights reserved. This material may not be published, broadcast, rewritten or redistributed. We strive to uphold our values for every story published.