Two events Friday evening made Lawrence feel somewhat like Hollywood.
About 400 people bought tickets to watch the Lawrence premiere of Kansas University film professor Kevin Willmott's "C.S.A.: The Confederate States of America" at Liberty Hall.
And at Haskell Indian Nations University, actor Wes Studi viewed two student-produced short films and watched "Geronimo: An American Legend" with an audience at a symposium.
Before the lights dimmed at Liberty Hall, Willmott chatted with a few audience members, who were anticipating seeing the film that already has screened in more than 50 cities.
It attempts to depict what events would be like today if the South had won the Civil War.
"I wanted to see his movie when I heard about it two years ago," said Chris Seferyn, of Kansas City, Mo. "It's definitely a thought-provoking premise, and it addresses probably one of the core issues of the United States."
About 65 people viewed an earlier screening of the show Friday afternoon at Liberty Hall.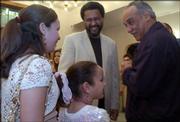 Bill Dower, a KU graduate student in electrical engineering from Denton, Texas, filed into the theater then. He said he wanted to see the film after he read about it.
"I thought it sounded interesting because people don't think of it from that side," Dower said.
Friday evening in Haskell Auditorium, students Ian Echohawk, of Pawnee, Okla., and Derrick Morris, of Sallisaw, Okla., waited to see Studi.
They said Studi's role as a Pawnee leader in "Dances With Wolves" was their favorite.
"I just like the part he did about the Pawnee because I'm Pawnee myself," Echohawk said.
Seeing the actor, who also has played major roles in "Last of the Mohicans" and "Heat," was inspiring for Echohawk.
"It makes me want to go into acting myself," he said.
After signing autographs and posing for pictures with several in attendance, Studi addressed his audience with a speech both humorous and serious.
"You were just a junior college when I was in high school. I'm glad to see that everybody grows up sometimes," Studi said of the university.
He also shared how he believed Haskell becoming a university inspired him.
"I said that this is a reason to rejoice. This is a time when we as Indian people can go much further in this world than has been previously expected of us," Studi said, receiving an ovation from the audience.
The Haskell Film Festival continues at noon today when the first film will be shown. Seven more will play throughout the day at Haskell Auditorium.
Copyright 2018 The Lawrence Journal-World. All rights reserved. This material may not be published, broadcast, rewritten or redistributed. We strive to uphold our values for every story published.