Members of the Kappa Kappa Gamma sorority and the Delta Upsilon fraternity dressed as firefighters and sang and danced Thursday night on the Lied Center stage.
Representatives from the two Kansas University greek chapters performed their act, "Rising Heat," a musical story of the drama of the fictional Cooper County firehouse.
Thursday marked the first night of performances for the 57th annual Rock Chalk Revue, the philanthropic drama competition among Kansas University living organizations.
Also performing this year are sorority and fraternity pairs Delta Gamma and Phi Kappa Psi, Kappa Alpha Theta and Beta Theta Pi, Pi Beta Phi and Sigma Chi, and Chi Omega and Phi Delta Theta. In all, 250 KU students are part of the cast.
All proceeds from the show's three nights will benefit the United Way of Douglas County.
"I think the show is definitely a lot better this year," executive producer Nicole Kansier said.
The event raised $20,000 last year after it produced between $40,000 and $50,000 each of the previous four years. Kansier said the event's advisory board hoped to return to the earlier totals. Donations and ticket sales so far show they may come close to $50,000, she said.
About 1,200 tickets were sold for Thursday's performance, she said.
Aside from their rehearsal commitments, all students in the revue completed a total of more than 11,000 hours of community service. Judges will announce award winners after Saturday's show.
Photo Gallery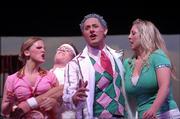 Rock Chalk Review
Catch the show
There are two more chances to see the 57th annual Rock Chalk Revue at Kansas University:
¢ 7 p.m. today at the Lied Center. A number of $18 tickets are available.
¢ 7 p.m. Saturday at the Lied Center. About 3,000 $20 tickets are still available.
¢ Tickets can be purchased at the Student Union Activities box office in the Kansas Union, by calling 864-7469 or online at www.tickets.com.
Copyright 2018 The Lawrence Journal-World. All rights reserved. This material may not be published, broadcast, rewritten or redistributed. We strive to uphold our values for every story published.