New York — Some of the things you WON'T hear on La Kalle 105.9 FM, the city's newest Spanish radio station: Salsa. Merengue. Pretty much any type of traditional Spanish music.
What you WILL hear: Daddy Yankee, Don Omar and plenty of other reggaeton artists, along with hip-hop and reggae stars, and DJs and commercials using "Spanglish" - a mix of Spanish and English.
The station, which went on the air more than six months ago, has adopted an up-and-coming format known as "hurban," for Hispanic-urban, which is aimed squarely at the ears of young Latinos.
"It's totally different from a traditional Latin station, but it's working out for us," said DJ Kazzanova, music director for La Kalle (slang for "the street"), which is owned by top Spanish-language broadcaster Univision.
In Los Angeles, KXOL-FM replaced its Spanish pop format with hurban in May and became Latino 96.3. It's now No. 1 in the market on weekends.
"You know what I mean, fool?" says Nico Jones, Latino 96.3's lead jock, after starting a sentence in Spanish.
Hurban stations are the latest example of how the growing Spanish radio industry is becoming more diverse as it tries to stay relevant for an increasingly varied Latino community.
In New York, one of the other two Spanish FM stations, La Mega 97.9 FM, plays a range of Spanish music but emphasizes the tropical-Caribbean forms, such as salsa, while 93.1 Amor FM plays slower, more romantic styles.
Both of these stations, along with Latino 96.3 in L.A., are owned by the Spanish Broadcasting System.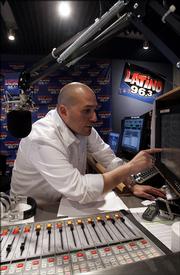 In Los Angeles, Spanish-language stations have formats ranging from old Mexican cumbias to the Spanglish-speaking jocks of Latino 96.3, who jump between Tego Calderon and Snoop Dogg.
And Spanish stations are now serving markets not usually associated with large Hispanic populations, including Kentucky and Oklahoma.
Across the country, Entravision Communications Corp. offers Jose, a Spanish-music version of the automated English format known as Jack, which plays music from a variety of decades and genres. The company also has Super Estrella, which plays Spanish pop and rock, as well as stations that play Mexican regional music, Tejano and romantic forms.
Even the major players of mainstream radio are taking part. Just last month, radio giant Clear Channel added to its existing Spanish radio offerings with the launch of La Preciosa, a network of more than a dozen stations that play Spanish oldies.
"There's a wealth of variations inside the general heading of Spanish music," said Tom Taylor, editor-in-chief of Inside Radio magazine.
The diversity in formats makes sense, considering what's going on with the Latino community in the United States, said Frank Flores, a vice president for Spanish Broadcasting Systems in New York.
There's also an increasing number of young, American-born Latinos whose families have been here for two or three generations and who speak English more than Spanish and have grown up listening to the music around them, such as hip-hop.
"There are different tastes, so there are different ways to approach this," Flores said.
Copyright 2018 The Associated Press. All rights reserved. This material may not be published, broadcast, rewritten or redistributed. We strive to uphold our values for every story published.