Topeka — When Banaka Okwuone gets her hands on something, good luck taking it away.
First came a pair of key rebounds by the Free State High senior in the final moments of Friday night's Class 6A sub-state showdown with Olathe East, followed a few minutes later with a death grip on the trophy they helped secure.
"Jenna (Brantley) took it from the locker room, and I had to get it back from her," Okwuone said. "I said, 'You guys are juniors. Next year you can go again.' This is my time."
Using a perfect blend of star power, productive role players and late-game poise, the third-seeded Firebirds made sure Okwuone and fellow seniors Tricia Dunham and Sarah Heider will go out in style, claiming a 69-65 victory over the second-seeded Hawks to earn a berth in the Class 6A state tournament.
Free State (15-7) will open state play Wednesday in Emporia - against a yet-to-be-determined foe - armed with an eight-game winning streak and a belief it belongs among the state's elite.
Photo Gallery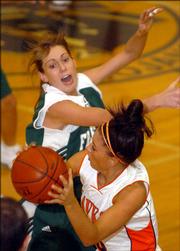 Free State girls vs. Olathe East
"To beat our rivals in the first round and to beat arguably one of the top two teams in the state in the second game to advance makes it a little bit sweeter," Firebirds coach Bryan Duncan said. "I think we showed we belong."
The pregame hype centered on a pair of talented twosomes, and the quartet delivered. Olathe East's Danielle McCray - a Kansas University signee - and junior Morgan Boyd finished with 21 and 22 points. On the opposite end, Free State junior Lauren Kimball tallied a game-high 24 points, while backcourt classmate Jenna Brantley added 13.
However, Kimball's big finish - she scored half her points in the final six minutes - might not have mattered without help from her less-heralded friends.
Another junior, Kelsey Harrison, scored all but two of her 17 points in the opening half as the Firebirds forged a 31-31 tie at the break, while Dunham broke free for a back-door layup and timely three-pointer midway through the third quarter after the Hawks (18-4) opened a seven-point lead.
"I thought when we got up 47-40, we made a move (and) were going to put some pressure on them," Olathe East coach Jeff Hulse said. "But they responded well."
Down three entering the final frame, Okwuone neutralized McCray on the low blocks while Kimball took over on offense, scoring 10 in a two-minute, 44-second stretch that ended with Free State up, 63-57.
All that remained was a free-throw parade followed by the Firebirds' coronation at center court.
"It's very satisfying. I think it just shows how much our team has worked and how far we have come," Kimball said. "It just shows this team is capable of anything."
Copyright 2018 The Lawrence Journal-World. All rights reserved. This material may not be published, broadcast, rewritten or redistributed. We strive to uphold our values for every story published.