A good mantra for those atop Mount Oread: "Go west, young man."
With the main campus already pinched for space, university leaders have been turning to west campus - where 300 of 480 acres remain undeveloped.
Kansas University hopes to turn an area in the southeast portion of west campus into a top-flight research park.
"We've always thought of the west campus as a place that would be dedicated to a great deal of research," Chancellor Robert Hemenway said.
The $40 million, 106,000-square-foot Multidisciplinary Research Building, or MRB, that opened in November is roughly one-eighth the total space that could be dedicated to research activities in the area, university architect Warren Corman said, painting a picture of a research megacomplex.
According to far-looking KU plans, Becker Drive will curve around the new MRB and loop around to the front of the Higuchi Biosciences Research Area to connect with the existing Constant Avenue, forming a circle.
It's the space inside the circle that could be home to new research facilities, Corman said. The circle, which is not completed yet, is already home to such facilities as the Higuchi building, and Smissman Research, McCollum and Simons Biosciences Research laboratories as well as the MRB.
Photo Gallery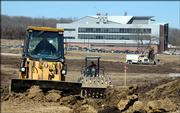 West Campus
There is talk of adding a pharmacy building. And there is room for more research space.
KU is putting in a $20 million, 45,000-square-foot addition to the west side of the Structural Biology Center. That project is expected to be completed and open by April 2007.
Jim Roberts, KU's vice provost for research, said it could be that the university continues to add on to the Structural Biology Center, adding space to the south, building up additional levels or heading in other directions.
Corman said some of the older buildings in the area may have to be replaced. New buildings would maximize space by being multi-level and close together, possibly with courtyards in between, he said.
Long-term plans are fuzzy, Corman said, and right now are just dreams.
"We're still working on the long-range plans," Corman said. "Every day a different idea comes up and we change things."
But there is broken ground. Crews are working on a 1,500-space parking lot south of MRB. The lot is projected to cost nearly $10.5 million.
When it opens in August, the park-and-ride lot will be accessible from Clinton Parkway and will have shuttle connections to the main campus.
KU will purchase five new buses, including one spare for the shuttle, which will make stops at six-minute intervals during peak times, said Donna Hultine, director of parking services. There will be at least three stops on the main campus, she said, though staff are still working on the system's particulars.
There are no plans on the table to build on what now are intramural recreation fields along the southeast corner of west campus, said Jim Modig, director of design and construction management. The fields are on land uniquely flat and well-suited for their current purpose, he said.
Hemenway said sooner or later the university will have to consider a long-term plan for the intramural fields area.
"We do know that it's something that we need to think about as we plan the future of the campus," he said.
And the campus is geared for expansion. A large basement in the MRB building houses large boilers and cooling systems. The space could easily be expanded to be used by new facilities, Modig said.
The university is prepared for new facilities with electric lines, sewer, water lines and other infrastructure.
"What we have done is brought in underground utilities to cover almost everything we need over there," Corman said.
KU Endowment purchased the 480-acre west campus decades ago. The Endowment leases the park-and-ride property to the state for $1 per year plus liability costs, said Jennifer Humphrey, development editor at the Endowment.
Requests for using the west campus land are made by the chancellor to the Endowment, and the Endowment's executive board ultimately must approve projects.
Copyright 2017 The Lawrence Journal-World. All rights reserved. This material may not be published, broadcast, rewritten or redistributed. We strive to uphold our values for every story published.