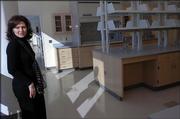 Kansas University's $40 million Multidisciplinary Research Building, designed to foster collaboration among researchers in various areas, is officially open.
Researchers soon will begin moving into the facility on west campus. And KU officials said they have high hopes.
"When you bring people together from these diverse backgrounds, you never know what's going to happen," said George Wilson, associate vice provost for research.
The 106,000-square-foot facility will be used to bring together researchers from various disciplines. It will accommodate about 200 people, including 20 faculty, 25 post-doctoral students, 136 graduate students and 10 undergraduate students.
It will include faculty from the departments of chemistry, geology, pharmaceutical chemistry and other areas.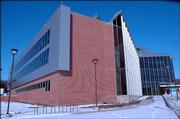 Wilson said the facility would help lure top researchers to campus and aid research efforts.
Jennifer Laurence, an assistant professor of pharmaceutical chemistry who will work in the building, said she believed the space would foster collaboration that enables researchers to think differently about projects. It also will allow researchers to spread out a bit.
"We've had less space than is optimal to do what we do now," she said. The MRB is part of a planned, multi-year expansion of KU's research space on west campus. Near the MRB, KU officials are planning a third phase of the Structural Biology Center and a cancer therapeutics center. There also have been discussions about building a pharmacy building nearby.
Copyright 2017 The Lawrence Journal-World. All rights reserved. This material may not be published, broadcast, rewritten or redistributed. We strive to uphold our values for every story published.