Orlando — A boy from Kentucky riding Walt Disney World's Rock 'n' Roller Coaster slumped over during the ride and later died though his Army Green Beret father attempted to resuscitate him.
There was no indication Thursday why Michael Russell, 12, of Fort Campbell, Ky., lost consciousness on the popular indoor roller coaster at Disney-MGM Studios or why he died. The Orange County Sheriff's Office is investigating the death, and the medical examiner's office will conduct an autopsy today.
Michael's parents, Byron and Charlotte Russell, and brother Houston, 7, were being assisted Thursday by a Disney official.
"Right now our deepest sympathies are with the family, and we are doing everything we can to assist them," said Disney spokesman Jacob DiPietri.
Byron Russell is a member of the Army's 5th Special Forces Group, stationed at Fort Campbell, Ky.
"The family is in mourning," said Maj. Jim Gregory, a public affairs officer for the special force's command.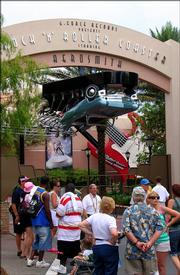 Disney closed the ride and asked the Florida Bureau of Fair Rides Inspection to assist in an inquiry. There was no indication Thursday that any equipment on the ride malfunctioned.
The death is the seventh in 18 months involving people stricken at Disney World attractions, compared with two such deaths in the previous 18 months, according to state records.
None of the other six deaths, dating to Christmas Eve 2004, involved accidents. In some of those cases, the autopsy found that person had pre-existing, dangerous medical conditions.
Disney's high-speed rides, including Rock 'n' Roller Coaster, display signs warning people with critical medical conditions.
The Russell family told Orange County sheriff's deputies that Michael was in good health.
"There are no previous medical problems they know of," said Orange County sheriff's Detective Mark Hussey, who was assigned to investigate the death. "He said his son had a yearly physical, the most recent just a few months ago."
The Russells boarded Rock 'n' Roller Coaster after 11 a.m., with Michael sitting next to his mother and brother and his father behind them, said Deputy Barbara Miller, a sheriff's spokeswoman.
"The dad noticed the little boy went limp as the ride finished," Miller said.
Deputies say Byron Russell immediately began CPR on his son, and a ride employee called 911 at 11:20 a.m., summoning paramedics from the Reedy Creek Fire Rescue.
Paramedics stationed at the park arrived about six minutes after the 911 call first came in and took over. Though Disney has portable heart defibrillator units stationed throughout its parks, there was not one available to use on Michael until the paramedics arrived.
He was transported to Celebration Hospital, where he was pronounced dead.
Disney said 36.6 million people have ridden Rock 'n' Roller Coaster since its 1999 debut.
There have been no previously reported deaths, nor any major injuries or illnesses since at least 2002, according to available state records. A Web-based organization that monitors theme park news internationally, themeparkinsider.com, cites a 2000 incident in which a 43-year-old man suffered a brain bleed on the ride.
Copyright 2018 The Lawrence Journal-World. All rights reserved. This material may not be published, broadcast, rewritten or redistributed. We strive to uphold our values for every story published.