Debbie Ice-Turner admits she's restrictive when it comes to what her 9-year-old son, Derrick, can do on the Internet.
Better safe than sorry, she says.
"I'm pretty strict with what his usage is," says Ice-Turner, of Lawrence. "He doesn't have an e-mail account, and I have parental controls on Web sites. When he does research, I sit down with him and make sure certain types of Web sites don't pop up."
With stories about Internet predators lurking in chat rooms and trolling popular Web sites such as MySpace.com and Friendster.com, parents such as Ice-Turner may have good reason to be restrictive.
But with some children knowing far more about the Internet than their parents, many adults are left wondering how to know what kids are doing online.
The answer, experts say, is to rely on the children to teach them.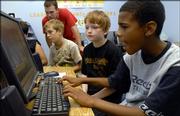 "Just like today's parents used to set the VCR for their parents, kids can teach their parents the different uses of the Net," says Rob Nickel, author of "Staying Safe in a Wired World: A Parent's Guide to Internet Safety." "The best thing to do is sit down with the kids and let them show you what's going on. They'll love to show off - just ask how to download a music file."
Many parents, realizing it's not practical to ban use of certain Internet applications such as instant messaging or use of Web sites such as MySpace.com, are taking a new approach: educating their children more about the proper uses and dangers of the Internet.
"It's a tool," says Sarah Frazelle, a Lawrence mother of children ages 4 and 8. "If you have a tool, you have to teach them to use it correctly. Being open and talking to your kids about it is better than using parental controls."
'Can't filter everything'
That's the philosophy behind Netsmartz, a program started earlier this year by the state's Boys & Girls Clubs and the Kansas Attorney General's Office.
The program uses animated characters and trained presenters to discuss Internet safety with children in schools and clubs. A separate program for parents also is offered.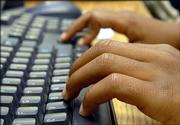 "I know there are strong advocates for filters, and especially in public school libraries there are materials children should not be exposed to and need to be protected from," says Sherriene Jones-Sontag, Internet safety director for the Kansas Alliance of Boys & Girls Clubs. "At the same time, you can't filter everything, and kids are so smart that if they want to get around something on a computer, they'll figure it out."
She says teens are especially vulnerable.
"Being a teenager is tough," she says. "On the Internet, people can be whomever they want, and teens know the person on the other end of the line will listen. Sexual predators know that, too."
One key focus for the Netsmartz presentations, Jones-Sontag says, is for children not to disseminate any personal information through online outlets.
One innocent IM from a girl that she just got home from cheerleading practice coupled with another IM another day that mentions the name of her hometown give a predator an outline of her daily schedule, notes Aaron Kenny, chief technology officer at Acworth, Ga.-based SafeBrowse, a company that offers parental controls for Web access.
Talk the type
The local lingo of the teenage Internet community For many parents, the acronyms that dominate online instant messages might as well be in Greek. But being able to decipher children's online chatter might help keep them safe. Rob Nickel, a former undercover officer specializing in online crime for the Ontario Provincial Police in Canada, put together a glossary to help adults "speak Internet" in his book "Staying Safe in a Wired World." Some key phrases in the local lingo, according to Nickel: ¢ A3 is "anytime, anywhere, anyplace." ¢ ASLP is "age, sex, location, picture." ¢ BD is "big deal." ¢ CMI is "call me." ¢ CTN is "can't talk now." ¢ F2T is "free to talk." ¢ FYEO is "for your eyes only." ¢ IAD8 is "it's a date." ¢ LDR is "long-distance relationship." ¢ LYN is "lying." ¢ MMAMP is "meet me at my place." ¢ P911 is "my parents are coming." ¢ PRW is "parents are watching." ¢ RUMF? is "are you male or female?" ¢ STATS is "your sex and age." ¢ YIWTGO is "yes, i want to go private." Source: The Associated Press
"Your concern isn't your kid talking to Johnny but that your child is talking to someone who he met through Johnny's friend, who your child also doesn't know," Kenny says.
'More cautious'
The Internet has changed the role of parenting, says John Carosella, vice president of Sunnyvale, Calif.-based Blue Coat Systems which created the free K9 Web Protection content filter. He compares a child's afterschool routine now to that of his own childhood:
"We'd have to be home in time for dinner," he says. "You'd have dinner and stay home. Why did our parents do that? To make sure you were physically safe, so they'd know where you were. The other consequence was that you were in the value system of the family. You'd spend the four hours before bedtime in the value system of your family.
"Now, even the good kids, the well-groomed good students, are on the Internet after dinner, soaking in their peer group value system. From the perspective of parents, they're sneaking out and hanging with their friends at night. It's rare to hear, 'No instant messaging after dinner,' but the key thing is that today's kids aren't removed from their peer group."
Ice-Turner, the Lawrence parent, isn't sure how she'll handle online use when Derrick gets older. But she expects to be watching over his shoulder.
"I think I'll be even more cautious as he gets older," she says. "It's like drug use or hanging out with the wrong crowd. I think we used to think the Internet was safe, but now we're realizing it's not as safe as we thought."
Copyright 2018 The Associated Press. All rights reserved. This material may not be published, broadcast, rewritten or redistributed. We strive to uphold our values for every story published.