Baghdad, Iraq — American troops detained a top Sunni religious leader for a few hours after a raid seeking terror suspects Saturday, while a bomb killed two U.S. soldiers patrolling south of Baghdad during a mammoth military operation trying to secure the capital region.
The slayings, along with the announcement of the deaths of two U.S. soldiers Friday, raised the week's toll to 16 Americans killed and underscored the dangers of the security campaign in Baghdad.
The arrest of Sheik Jamal al-Din Abdul Karim al-Dabban drew sharp protests from Sunni Arabs and was an embarrassment for Iraq's Shiite prime minister on the eve of his presentation of a reconciliation plan aimed at drawing the disaffected Sunni minority into the political process.
The influential Sunni Association of Muslim Scholars said al-Dabban was arrested with three of his sons about 5 a.m. in Tikrit, hometown of former leader Saddam Hussein. The cleric was released about seven hours later after protests, said Tikrit Gov. Hamad Humoud al-Qaisi.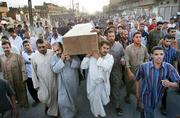 The U.S. military said it detained five people during a raid in the Tikrit area, 80 miles north of Baghdad, and later realized one was a senior religious leader, who was released.
"The security forces did not know it was a senior sheik's house when they conducted the assault," the statement said.
The military said the raid was based on intelligence that arose from the June 7 killing of al-Qaida in Iraq's leader, Abu Musab al-Zarqawi. It said one of the suspects "was directly associated with several senior-level al-Qaida members and reportedly plays an important role in the network between Baqouba and Tikrit."
Hundreds of people responded to calls broadcast over loudspeakers to gather in front of the Tikrit governor's office to protest the detention, said Sheik Yahya Ibrahim al-Atwani, deputy head of the local chapter of the scholars' association.
Copyright 2018 The Associated Press. All rights reserved. This material may not be published, broadcast, rewritten or redistributed. We strive to uphold our values for every story published.