New York — A somewhat scaled-down design for the Sept. 11, 2001, memorial that retains the central elements of the original - including reflecting pools and the inscribed names of the victims - was unveiled Tuesday after the project was sent back to the drawing board because the cost was pushing $1 billion.
Mayor Michael Bloomberg and Gov. George Pataki signed off on the more modest proposal, more than a month after asking developer Frank Sciame to find ways to reduce the cost to $500 million.
Sciame managed to cut the cost by more than $285 million by shrinking the size of the memorial museum, removing portions of the galleries around the pools where the names were to be listed and consolidating all entrances into a visitors center. The new design also will raise the victims' names to street level.
Other reductions came from recalculating previous cost estimates. Separately, Sciame slashed $11 million in annual operating expenses.
The reflecting pools and waterfalls envisioned by architects Michael Arad and Peter Walker for the site where the World Trade Center stood were retained. In a report, Sciame said he had considered eliminating the waterfalls but decided they were too important to the "contemplative nature" of the design - particularly because they will drown out the sounds of the city and allow viewers to get lost in the power and emotion of the memorial.
The names of the 2,979 people who died in the 9-11 terror attack and in the WTC bombing of 1993 will be inscribed on parapets.
"You will be looking over them into the void, into the waterfalls," Sciame said.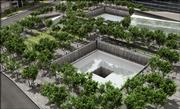 Relatives of the dead who had lobbied to raise the names to the plaza said they were pleased their concerns were heard. Still, a number of families, plus fire and police unions, want the list organized so that fire battalions or co-workers are grouped together.
Others were upset that the museum and other elements will stay below ground, which they find disrespectful and even unsafe if large crowds had to be evacuated.
Tuesday's announcement marked the beginning of a seven-day public comment period. The Lower Manhattan Development Corp., which oversees the rebuilding of the site, will adopt a final design by the end of the month, officials said, and work on the foundation of the memorial could begin early next month
The memorial is set to open by the eighth anniversary of the attacks, in 2009.
Copyright 2018 The Lawrence Journal-World. All rights reserved. This material may not be published, broadcast, rewritten or redistributed. We strive to uphold our values for every story published.