Houston — Relatives of two missing American soldiers reacted with a mix of grief and outrage Tuesday over news that the soldiers' bodies were recovered in Iraq and that the men may have been tortured and beheaded.
The bodies are believed to be those of Pfc. Kristian Menchaca, 23, of Houston, and Pfc. Thomas L. Tucker, 25, of Madras, Ore., U.S. military officials said.
They were found near Youssifiyah, where the soldiers disappeared Friday during an attack on a checkpoint. A third soldier, Spc. David J. Babineau, 25, of Springfield, Mass., died in the attack.
An Iraqi defense ministry official said that the bodies of Menchaca and Tucker showed signs of being tortured and that the men were "killed in a barbaric way." The Mujahedeen Shura Council, an umbrella organization of five insurgent groups led by al-Qaida in Iraq, suggested in a Web statement that the men had been beheaded. The statement could not be authenticated.
"It's very upsetting to me that they would give you details of the torture, of the beheading," said Mario Vasquez, Menchaca's uncle.
Menchaca's mother, Maria Vasquez, answered her door in Brownsville early Tuesday sobbing and unable to speak. She issued a statement written in Spanish that said, "I am against the war and I feel very hurt by what has happened to my son."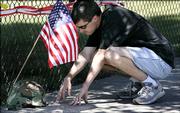 In Oregon, Tucker's family grieved in private. They said in a statement they were devastated by the news but heartened by the community support.
"Tom has gained a much larger family through this ordeal than he had when he left home to go help to free the Iraqi people and protect his country from the threat of terrorism," the family said.
Menchaca grew up in a close-knit but extended Mexican-American family in Houston. His uncle and cousins remembered a sweet, quiet young man who was proud to be in the military and later wanted to join the U.S. Border Patrol.
Cousin Sylvia Grice, 37, said Menchaca visited relatives in Texas last month but didn't talk much about the war.
U.S. deaths
As of Tuesday, at least 2,507 members of the U.S. military have died since the beginning of the Iraq war in March 2003, according to an Associated Press count.
"He wanted to go out and visit his friends," she said. "He wanted to eat a hamburger. He didn't want to sit down and talk about what was going on.
"But he was very proud of serving his country and he believed in what he was doing."
Relatives said he married 18-year-old Christina Menchaca of Big Spring a few weeks before being deployed to Iraq. She has also declined to speak to reporters.
Tucker graduated from high school in 1999 and worked a variety of construction jobs before he decided to join the Army last summer. He appeared to have found something of what he was looking for, said Tim McDonald, who co-owns McDonald Development of Redmond, where Tucker worked as a framer.
"He said he liked it, and it was working out for him," McDonald said.
In Iraq, Tucker kept in touch with friends via e-mail and telephone. Although he tried to keep them from worrying, longtime friend Margee Hagedorn said, he did share some troubling stories, such as when the Humvee in front of his was hit by a roadside bomb.
At a nearby gas station and convenience store where Tucker pumped gas as a teenager, car wash manager Ed Bockoven affixed red-white-and-blue balloons to the store's sign.
"He has a lot of friends in town," Bockoven said.
Copyright 2018 The Associated Press. All rights reserved. This material may not be published, broadcast, rewritten or redistributed. We strive to uphold our values for every story published.