It could be a head nod, a hand gesture or a word.
It doesn't matter how they do it, but the goal for all kids at the Sertoma-Schiefelbusch Communication Camp is to stretch their abilities to communicate.
"What we're trying to build is social networks," said Julie Gatts, a clinical faculty member at Kansas University's Schiefelbusch Speech-Language-Hearing Clinic who assists with the camp.
Ninety children, ages 4-12, are traipsing around a building at the Douglas County 4-H Fairgrounds for the camp, which runs through June 30.
Some of the participants have trouble communicating. Some don't. All campers work on vocabulary and language development as they participate in typical camp activities.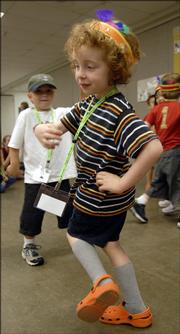 "You make new friends and learn a lot," Dakota Jobe, 9, said while decorating a maraca he made from a paper cup filled with uncooked macaroni.
The camp brings in guest speakers to talk with the campers. Tuesday's speakers gave a lesson on Latin American dance, including salsa and calypso styles.
Juliana Hill, 7, sprang out of her chair, found a partner and took to the dance floor, tapping her feet to the music.
"It's really good," Juliana said of the camp. "I just like it."
To the kids, it's simply fun. But they're also learning. Each day begins with a rundown of the activities. The schedule is discussed verbally and with pictures representing each program.
The kids are encouraged to talk with each other and work together. A goal might be to be able to ask a question of a friend - whether verbally or not.
The camp is staffed by students and faculty from the Schiefelbusch clinic.
It started about six years ago and has grown. Last year, about 60 students participated. The number climbed to 90 this year, and the camp had to turn some kids away.
The program's primary support is the Lawrence Sertoma Club, which raises funds with its annual barbecue to offer an $80 rebate on the $100 camp cost for students with communication challenges.
"There are very few things like it locally," said Bobbi Jobe, Dakota's mother, who has brought her son to the camp for four years. "We're just so thankful that they have the opportunity available."
Copyright 2018 The Lawrence Journal-World. All rights reserved. This material may not be published, broadcast, rewritten or redistributed. We strive to uphold our values for every story published.