New Orleans — As they struggle to build a new New Orleans, city officials were appalled by a reminder of the old city: six people slain in a single weekend.
Community leaders have raised fears that such violence could discourage people from moving back, so Mayor Ray Nagin on Monday asked for help to prevent criminals from spoiling what could be the greatest rebuilding effort in the nation's history.
Gov. Kathleen Blanco responded by sending National Guard troops and state police to patrol city streets.
"We're trying to bring people home," said Rob Couhig, a New Orleans businessman who is advising Nagin on rebuilding. "I think what's important is we have a relatively peaceful city, and the prospects for one."
Blanco agreed, saying the situation called for swift action. "Things like this should never happen, and I am going to do all I can to stop it," she said.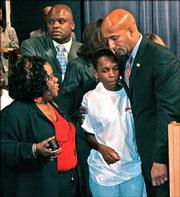 One hundred National Guardsmen with law enforcement experience and 60 state police officers were to be sent to the city today. Up to 200 more troops would be deployed after that, said Denise Bottcher, the governor's spokeswoman.
Earlier Monday, Nagin had asked for as many as 300 National Guardsmen and 60 state police officers.
It was the first time the National Guard has been used for law enforcement in the United States since the immediate aftermath of Hurricane Katrina.
Nagin had sought the troops after five teenagers in an SUV were shot and killed in the city's deadliest attack in at least 11 years. Police said the attack was apparently motivated by drugs or revenge. Also, a man was stabbed to death Sunday night in an argument over beer.
"Today is a day when New Orleanians are stepping up. We've had enough," Nagin said. "This is our line in the sand. We're saying we're not going any further."
Nagin said he would not allow criminals to take over when the city is still trying to recover from the hurricane. The mayor said troops should be posted in heavily flooded neighborhoods to free police to concentrate on hot spots elsewhere.
The National Guard had as many as 15,000 soldiers in the city in the weeks after Katrina. As many as 2,000 stayed until February, said Louisiana National Guard spokesman Lt. Col. Pete Schneider.
Blanco said plans were being crafted last week to step up anti-crime efforts, but the weekend slayings forced authorities to move faster. She said she was talking with New Orleans Police Chief Warren Riley about his exact needs.
Copyright 2018 The Associated Press. All rights reserved. This material may not be published, broadcast, rewritten or redistributed. We strive to uphold our values for every story published.