COLUMBUS, OHIO — Episcopal Church leaders chose Nevada Bishop Katharine Jefferts Schori as their leader Sunday, making her the first woman to head any denomination in the Anglican Communion worldwide.
The decision to choose a female presiding bishop for the 2.3 million-member denomination, 30 years after the church first allowed women to become priests, might exacerbate tensions between Episcopalians and other branches of the Anglican church. Three years ago, Episcopalians angered many conservatives in the United States and abroad by electing an openly gay man from New Hampshire, Gene Robinson, as a bishop.
Jefferts Schori, 52, a former oceanographer, backed Robinson's election. The runner-up for presiding bishop, Alabama Bishop Henry Parsley, opposed consecrating Robinson.
Before Robinson's consecration in 2003, no openly gay priest had become a bishop in the Anglican church, which extends back more than 450 years. Only the United States, Canada and New Zealand have female bishops, although some other provinces allow women to quality for the position. The Church of England does not allow female bishops.
With outgoing Presiding Bishop Frank Griswold by her side, Jefferts Schori told delegates to the Episcopal General Convention in Columbus on Sunday that she was "awed and honored and deeply privileged to be elected." She was chosen on the fifth ballot, getting 95 votes to 93 for six male candidates.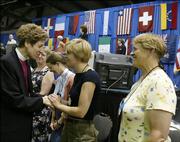 The historic vote shocked many delegates gathered at the convention, where they were also debating whether to temporarily halt the appointment of gay bishops to make amends with other Anglican leaders.
Feminists hailed the selection of Jefferts Schori, who holds degrees in divinity as well as in oceanography and biology, as an important step toward achieving gender equality. "Justice comes along slowly, but it eventually comes along," said Gloria Feldt, an author and women's rights leader, in an interview Sunday.
Jefferts Schori will be installed at a ceremony in Washington National Cathedral on Nov. 4. As presiding bishop, she will represent the church in meetings with other top Anglican officials and other leaders of faith, but she will not have as much power as some other religious figures. Dioceses elect their own bishops, and the Episcopal General Convention, which elected Jefferts Schori, sets policy for the church.
Copyright 2018 The Lawrence Journal-World. All rights reserved. This material may not be published, broadcast, rewritten or redistributed. We strive to uphold our values for every story published.