There was a time many years ago when Charles Gruber had no interest in being a father.
He believed once that children only added to the world's population problems and the earth was running out of resources.
"My first wife was, and still is, a radical feminist," Gruber said recently. "I adopted her politics as my own and felt I didn't have any business fathering or bringing any more children to earth."
Things have changed.
Today, Gruber, a 61-year-old Lawrence Realtor, is the father to three grown stepchildren and two adopted children. He also has five stepgrandchildren.
Gruber found himself stepping into the role of a father after he divorced and remarried. His second wife, Khabira, had a different attitude about children, and she already had three children in their late teens from her previous marriage.
"She was the essence of motherhood," Gruber said. "Something of the fatherness awakened in me, and that appealed to me."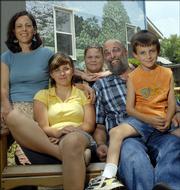 Gruber was unable to have children of his own, but that didn't stop him from taking on the role of a father. He considers his first true experience at being a father as coming in the late 1970s after marrying Khabira. He was 34 years old.
A woman in Colorado was having personal problems, and the Grubers agreed to tend to her children - two girls and a boy, ages 7, 5 and 3 - at the request of a friend.
The younger children provided a different challenge than Khabira's older children presented.
"I had no idea how to relate to them," he said of his sudden thrust into a new parenthood situation. "My wife did a great job, but I didn't know whether I was supposed to be strong, friendly or kingly, so I experimented a lot."
To this day, Gruber doesn't know whether his experimenting had any long-term effect on those children. They returned to their mother eight months later, and Gruber hasn't seen or heard from them since.
"It would be interesting to know," he said.
High-energy
Gruber was in his late 30s when he and Khabira adopted a boy, Jesse Gruber, now 22, and a girl, Lily Gruber, 23. It was an open adoption - the children know who their birth mothers are and still visit them.
Gruber has a lot of energy, and he can be intense, his children and grandchildren said.
"He's got this emergency-rescue mode. He thrives in high-energy situations," said Khalila Binns, 47, Lawrence, Gruber's stepdaughter.
Binns recalled numerous times when she needed Gruber to come to her rescue. He wired her money when she was broke in Mexico, and he helped her many times with automobile problems at home.
"I was grown when he came into my life, but he's been a father figure," Binns said.
Lily Gruber said Charles Gruber had accompanied her on numerous road trips to places across the country.
His grandchildren are not left without attention.
"Being a granddaughter, I get to come in and hang out and do all the fun stuff," Kristen Blosser, 20, said. "We share each other's passion for photography. Digital stuff."
Eight-year-old stepgrandson Kai Blosser put it simply: "I think he's really fun."
One of the major characteristics of being a father for Gruber is "always wanting to say yes," he said.
"When somebody wanted something, my father always said 'no,' and then we'd try to talk him into it," Gruber said. "My inclination is to always say 'yes,' and they can try to talk me out of it.'"
Positive parenting
Despite the difference in ages and interests among his children and grandchildren, Gruber said he treats them the same: As a whole person in a positive way.
Gruber has always worked hard to provide for his family, Binns said.
"He's always busy, so he's missed some of the little things, but he's always there for the big things," Binns said, describing the "big things" as birthdays and other family celebrations.
Gruber has no special celebration plans for today other than "being home, enjoying my house, garden and family." He sees his attitudes about being a father changing with age. What he calls his "grandfather mode" has activated, and mentoring youngsters as well as young men and women has become part of his daily pattern, he said.
"I have that prevailing grandfather energy," he said, "and that's just fine with me."
Copyright 2017 The Lawrence Journal-World. All rights reserved. This material may not be published, broadcast, rewritten or redistributed. We strive to uphold our values for every story published.