Kitties usually don't travel well.
But this weekend, more than 100 cats and kittens and their owners from several states and Canada again will invade Lawrence for the annual International Cat Show by the Kansas City Midwest Cat Club.
"Some have been here before. I'd say we've got probably about 10 exhibitors from across the country who have never been here before," said Topeka resident Murlene Priest, the club's president.
Eight judges will handle and examine the trained cats in competition from 9 a.m. to 4 p.m. Saturday and Sunday at the Douglas County 4-H Fairgrounds, 2120 Harper St.
The judges will select the best pedigreed kittens, adult cats, spayed or neutered adult cats, and your everyday household cats. About 24 pedigreed breeds plus several long-haired and short-haired household cats are expected, Priest said.
The show is open to the public. Admission will cost $5 for adults and $4 for children and senior citizens. Children 5 years old and younger can enter for free.
The show may be a little different than those expecting something like the Westminster Kennel Club Dog Show.
"Cats, they are not going to run around in the circle - you hope. Occasionally, one runs away," Priest said.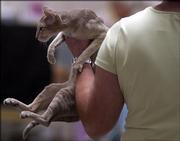 She breeds Siamese cats. In that category and others, the judges will handle every kitten or cat and examine their appearance, condition and balance for "standards of perfection."
The judges and the show are affiliated with the American Cat Fanciers Assn., and winners can earn finals points for the circuit, Priest said.
Organizers also expect some of the newest breeds at the show, including hairless, spotted and curly coat cats.
Vendors will sell cat accessories all weekend, and raffles and silent auctions for prizes will be drawn each day. The club will donate some of the profits from the event to animal welfare organizations in the state.
Copyright 2018 The Lawrence Journal-World. All rights reserved. This material may not be published, broadcast, rewritten or redistributed. We strive to uphold our values for every story published.