Washington — When Hassan Shafeeq was growing up in the Maldives Islands - a tropical paradise in the Indian Ocean - he never thought he'd end up practicing medicine in a small farming town in southwestern Kansas.
But that's what happened after Shafeeq went to medical school in Katmandu, Nepal, and completed his residency at Mount Sinai Hospital in New York.
Without Shafeeq, the 20-bed hospital in Meade, Kan., might not even have a doctor. He is one of more than 100 foreign-born physicians - from countries like Egypt, Pakistan and Croatia - who have served in Kansas communities since 1994 under the J-1 visa waiver program.
"It's been a lifesaver," said Michael Thomas, longtime CEO of the Meade hospital. "I think we probably would have been without a doctor in the last 15 years had it not been for that program."
Shafeeq began working in Meade last year under the special program, which allows international medical graduates to stay in the United States if they agree to spend three years working in underserved rural or urban communities.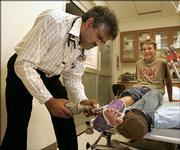 But the program is a temporary one that has been reauthorized every few years - most recently in 2004 - and officially expired last week. Now, some lawmakers want to make the program permanent, arguing that it is critical for quality health care in rural areas where few American doctors want to practice.
"We've convinced Congress at least three times now that the program is worthwhile and there's no real need for us to do this every two years," said Rep. Jerry Moran, R-Kan., who together with Rep. Earl Pomeroy, D-N.D., has offered legislation to reauthorize the program permanently.
A similar bill in the Senate is sponsored by Sens. Sam Brownback, R-Kan., and Kent Conrad, D-N.D.
There are 54 doctors currently working around the state from the J-1 visa waiver program. Like other states, Kansas is authorized to provide waivers for up to 30 physicians a year.
The program is crucial in small farming towns like Meade, Greensburg and La Crosse, where it has become nearly impossible to recruit American doctors.
"It's not just that it's small and rural, it may be three hours from an urban center," said Barbara Gibson, director of the primary care office at the Kansas Department of Health & Environment. "The distances, the remoteness and the population density - it's just not a choice that a lot of physicians would make."
While a quarter of the nation's population lives in rural areas, only 10 percent of physicians practice there, according to the U.S. Department of Health and Human Services.
The J-1 visa waiver program has become a major means of placing doctors in underserved areas of the country, with more than 1,000 waivers requested in each of the past three years, according to a Government Accountability Office report issued last month.
The problem is particularly acute in Kansas, Gibson said, where only five of the state's 105 counties are considered urban and 31 counties are considered frontier, with fewer than six persons per square mile.
Along with the isolation that some doctors feel in rural communities, many foreign graduates are surprised at how stressful the jobs can be. Not only do they put in long hours by day, but they remain on call in the evenings and on many weekends, often without any backup.
"Sometimes it's pretty overwhelming," said Shafeeq, whose wife and two young children also moved to Meade. "You have to make all the decisions alone. Sometimes I've been pretty nervous, but I think I'm doing OK."
Though Shafeeq said living in Meade was a shock to the system after living in New York, he says he's been pleasantly surprised by the warmth and openness of the community.
"The difference is that people are more human here, friendly and pretty nice," Shafeeq said. "I feel like I'm one of the family here."
Copyright 2017 The Associated Press. All rights reserved. This material may not be published, broadcast, rewritten or redistributed. We strive to uphold our values for every story published.