Think of it as a nearly $50,000 open sign.
With chain link fencing strung up and down parts of Massachusetts Street and tractors and construction crews drowning out the noise of street musicians, downtown merchants can understand how some customers may think parts of downtown are closed for business.
That's why they're asking city commissioners at their weekly meeting tonight to provide $48,100 in public money to help fund an aggressive marketing campaign to draw shoppers to downtown during a waterline replacement project that is expected to last through mid-September.
"I think what is really important is to just let everyone know that regardless of what they see, that all the businesses in downtown are open," said Rick Marquez, director of Downtown Lawrence Inc.
Marquez said if the city provided the nearly $50,000 in funding, that downtown businesses could be counted on to provide about another $20,000. The nearly $70,000 would be used to buy print, radio, television and Internet advertising that promotes downtown. Marquez said the advertising would be designed to reach shoppers from Lawrence, Topeka and smaller area towns.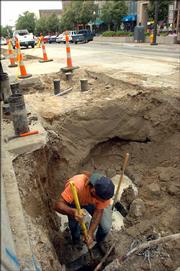 The request will get some serious consideration from city commissioners. Commissioner Boog Highberger said he recognized the waterline project - which is reducing portions of Massachusetts Street to one-way traffic - had potential to create short-term pain to retailers.
"I think preserving downtown retail is important to all of us," Highberger said. "This public project is going to pose some challenges to private businesses, so I think some public assistance is probably appropriate here."
City staff members also are cautiously recommending approval of parts of the project. David Corliss, interim city manager, said city commissioners may want to approve funding for half the request - a total of $24,050 - and then monitor the activity in downtown to determine if additional funding is needed.
Corliss, in a memo to commissioners, said it would be important for the city to not set a precedent of providing funding to private businesses every time a city project hurts them.
But Corliss said a case could be made that the downtown waterline project was different than typical city infrastructure projects. That's because downtown businesses basically are the only ones that rely on the city to provide parking. The waterline project is eliminating parking from one side of both the 700 and 800 blocks of Massachusetts Street. Corliss also said because of the downtown's design, merchants were much closer to the actual construction than most businesses affected by other city projects.
In addition to the advertising component, the marketing plan could include some signs to better direct people to parking and the creation of small, downtown events. Marquez said while details hadn't been developed on any events, possibilities included a summer-kickoff event, a back-to-school event and enhancements to the city's downtown sidewalk sale.
City commissioners will meet at 5 p.m. tonight at City Hall, Sixth and Massachusetts streets.
Copyright 2018 The Lawrence Journal-World. All rights reserved. This material may not be published, broadcast, rewritten or redistributed. We strive to uphold our values for every story published.