Baldwin — A train whistle sounded in the distance, and it got louder.
Tom Wheeler, of Olathe, grabbed his microphone to try to bring some order to the kids and parents who scrambled to get a look at Thomas the Tank Engine, who stars in the children's television show.
Thomas pulled his smiling face, his baby blue engine and his cars into the party Saturday afternoon at the Midland Railway, 1515 High St. in Baldwin.
"Your attention please. If you have tickets for the 3:15 train, get out your passports. Thomas is approaching the station," said Wheeler, a member of the Midland Railway Historical Assn.
As 300 children and their parents emptied the train from their 25-minute ride, 300 more waited for their turn.
Others wore their conductor's hats and posed for photos in front of Thomas, as hundreds of children and their parents took part in other activities in the park adjacent to the train station.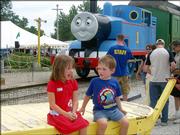 The historical association hosts the annual event during two weekends every June as its main fundraiser.
Activities include storytelling, music and pictures with other television characters.
The event annually raises between $90,000 to $100,000 for the association that aims to preserve the experience of riding a passenger train, he said.
Aaron McGee was in the arms of his father, Craig, who walked with Aaron's sister, Ally, and mother, Rochelle, after their afternoon ride with Thomas.
Aaron's blue shirt with Thomas on the front told why the family made the trip Saturday from Garnett.
"He's a train fanatic. He has all of the videos," Craig said.
"His bedroom is all trains," Rochelle said.
"He loved the ride," Craig said.
Wheeler said the event pulls families from all over the region. Typically, with a sold-out event like Saturday, 3,600 people visit the Midland Railway for "A Day with Thomas," he said.
The event continues from 8 a.m. to 6 p.m. today. Thomas the Tank Engine will also return to give rides 8 a.m. to 4 p.m. Friday, and from 8 a.m. to 6 p.m. Saturday and June 11.
Tickets cost $16 for anyone 2 and older. They can be purchased on the Internet at www.ticketweb.com or by calling (866) 468-7630.
Copyright 2018 The Lawrence Journal-World. All rights reserved. This material may not be published, broadcast, rewritten or redistributed. We strive to uphold our values for every story published.