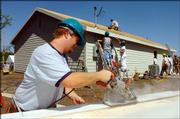 Warren Howe finishes a piece of siding at the "blitz build" at 915 Homewood St. Work started around 6 a.m. Friday, and by noon workers had the house standing. Most of the house will be completed in three days.
Nearly half of the Lawrence Home Builders Assn.'s 260 members are donating time, materials and money to provide the home through Lawrence Habitat for Humanity.
Copyright 2018 The Lawrence Journal-World. All rights reserved. This material may not be published, broadcast, rewritten or redistributed. We strive to uphold our values for every story published.