With the school year ending, finger-paint landscapes and crayon masterpieces are making their way home from lockers and cubbies. But they don't have to be confined to the refrigerator door.
Deborah Wiener, owner of Designing Solutions in Silver Spring, Md., says children's artwork can enliven a home when properly presented.
"If you do it well, you may never have to buy artwork or a poster again," she says. Wiener offered several ideas for parents who want to exhibit the early period of their budding Picassos.
¢ Create a collage. Use magnetic or cork boards to showcase multiple paintings and drawings. Hang alone or fashion a series down a staircase or in a playroom. For a more permanent display, trim a wall with upholstered lattice or cover with cork and paint to match the color of the room. Coat a closet or bedroom door with magnetic paint to make it ready for an art exhibition. Wiener prefers the permanent options for children's bedrooms.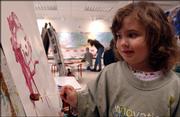 ¢ Invest in frames. "If it's not hanging on your wall with Scotch tape, it looks a lot better," Wiener says. Though framing can be costly, she says a few framed pieces can make a nice wall display. Use acid-free mats to keep construction paper from fading. Wiener likes Pottery Barn Kids' Ashby Gallery Frames ($25 to $49). Their hidden pockets allow for easy picture replacements when next year's artwork needs the spotlight. Kids' art also can be displayed in shadowbox frames.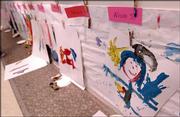 ¢ Be resourceful. Use plate racks as easels to display artwork in plastic picture frames for an inexpensive gallery. Show off pottery with acrylic easels and boxes. Wiener favors sprinkling these on a baker's rack or bookshelves.
¢ Get the little artist involved. Let your child help decide where artwork should be showcased.
¢ Go bold. Another display option is a customized enlargement of the art, which makes for a dominant piece of decor in a hall, playroom or child's bedroom. FedEx Kinko's can transform a letter-size masterpiece into a 36-by-48-inch color poster. Call your local branch for prices.
Copyright 2018 The Lawrence Journal-World. All rights reserved. This material may not be published, broadcast, rewritten or redistributed. We strive to uphold our values for every story published.