This month, as most schools prepared for students to return to classes, three Kansas school districts consolidated and a fourth was dissolved.
For rural school districts, the numbers don't look good.
"Only 22 out of our 105 counties have grown since 2000, and only a few of them - very few - are growing at a pace that's equal to what we saw in the 1990s," said Jim Hays, a demographer with the Kansas Association of School Boards. "If that keeps going, it'll have a huge effect on schools."
Many more of the state's rural districts, he said, will be forced to consolidate or dissolve.
"It's hard to run a school if you don't have the kids," Hays said, noting that 59.8 percent of the state's 300 school districts lost enrollment last year.
On July 1, three school districts consolidated with neighboring districts; a fourth was simply eliminated altogether:
¢ Decatur County - USD 295 Prairie Heights in Jennings dissolved after enrollment fell to fewer than 15 students.
¢ Jewell County - USD 104 White Rock, enrollment 100, merged with USD 278 Mankato, enrollment 213.
¢ Washington County - USD 221 North Central, enrollment 116, merged with USD 222 Washington, enrollment 369.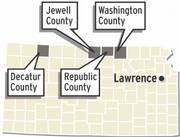 ¢ Republic County - USD 455 Cuba, enrollment 100, consolidated with USD 427 Belleville, enrollment 455.
Republic, Washington, Jewell and Decatur counties all border Nebraska.
"Those four counties have some of the highest populations of elders - people over 65 - in the state," said Xan Wedel, information specialist at the Policy Research Institute at Kansas University.
"They're part of what I call the 'T Zone' - that top tier of counties and a row down the middle that skirts around Salina," she said. "For whatever reason, young people aren't staying in those communities."
In Republic, Washington, Jewell and Decatur counties, at least 25 percent of the population is 65 or older.
That's not news to Cuba's city clerk, Pam Reynolds.
"We just don't have as many kids as we used to," she said. "It seems that after they grow up and move away, they don't move back. There aren't as many jobs as there used to be."
The school-district merger, she said, was expected. Though the district covers 205 square miles, it had fewer than 100 students.
"It scares me to think about what's going to happen to our little town," Reynolds said. "But we keep our chins up and keep moving forward."
Five years ago, Kansas had 304 school districts. Today, it has 296.
Census estimates show that between 2000 and 2005, eight Kansas counties - Wallace, Scott, Republic, Jewell, Geary, Greeley, Lane and Ness - had population losses of 10 percent or more.
Ness County suffered a 12.9 percent loss; Lane and Greeley counties each lost 12.1 percent.
Population trends
¢ Kansas accounts for less than 1 percent of the nation's population. That's as low as it's been since statehood. ¢ Five counties out of 105 - Johnson, Sedgwick, Shawnee, Wyandotte and Douglas - account for 49.5 percent of the state's population. ¢ Nine counties - Rawlins, Wallace, Logan, Gove, Greeley, Hamilton, Hodgeman, Clark and Comanche - have fewer than three people per square mile. Douglas County has 219 people per square mile. ¢ Fifty-seven of the state's 105 counties lost population between 1990 and 2000. According to census estimates, only 22 counties in Kansas have experienced population growth since 2000. ¢ Though some of the state's urban school districts are growing, the state had 225 fewer students last year than in 2004-05. Source: Kansas Association of School Boards.
"We have 100 fewer students today than we did when I started teaching here back in 1989-90 - that's a 30 percent drop in about 15 years," said Ken Bockwinkel, principal at junior and senior high school in Tribune in Greeley County, which borders Colorado.
Bockwinkel pinned the declines on the region's farm economy.
"It just doesn't take as many people to operate a farm as it did 20 years ago," he said.
WaKeeney school Supt. Robert Scheib and his two brothers grew up on a farm south of Dighton in Lane County.
"My dad is 77; he's still there, farming," Scheib said. "My brothers and I - none of us are there, we're all doing other things."
In recent years, few school districts have been hit as hard as WaKeeney.
"Out of 500 kids, we lost 100 in two years - from 2000 to 2002," Scheib said. "One of those years, we graduated 72 seniors and took in 11 kindergartners."
Scheib said he expected enrollment to level off at about 380 students this fall; 360 by 2010.
The 707-square-mile district covers most of Trego County, making future consolidation unlikely.
"If we were any bigger, kids would end up being on busses more than an hour," Scheib said. "There's a point where - because of the distances involved - consolidation just isn't practical."
WaKeeney voters recently passed a $2.8 million bond issue, resulting in major improvements in facilities.
"We have science classrooms that are state-of-the-art; we have a new commons area and a 1,600-seat, double-gym fieldhouse," Scheib said. "Compared to where we were six years ago, we're in incredible shape."
Other districts are not.
"We have 18 or 20 counties with one high school. How many are out there that have two or three and could have one? I don't know," said Hays of the school board association.
"I suspect that will be the next public policy debate."
Last year, 60 Kansas high schools had 100 or fewer students.
Copyright 2018 The Lawrence Journal-World. All rights reserved. This material may not be published, broadcast, rewritten or redistributed. We strive to uphold our values for every story published.