Chicago — Forecasters predicted a prolonged period of sweltering heat for parts of the Midwest, issuing excessive heat warnings for the Chicago and St. Louis areas through Tuesday evening.
The National Weather Service said the combination of heat and humidity could make it feel like 105 degrees in many areas. The heat wave may ease on Wednesday, the weather service said.
The Midwest scorching comes as a two-week heat wave blamed for many as 141 deaths in California began to subside.
The state had been sizzling in triple-digit temperatures since July 16. Several cities set records for extended heat waves, including Fresno, with six consecutive 110-plus-degree days, and Sacramento, with 11 consecutive triple-digit days, said Cynthia Palmer, a National Weather Service meteorologist in Sacramento.
In Chicago, Mayor Richard Daley and other officials urged residents on Saturday to check on their neighbors and relatives.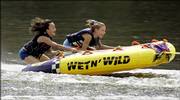 "I ask all sons and daughters to call their parents or grandparents. I ask a neighbor to contact someone who's living alone. I ask people in the community to watch out for children," Daley said.
St. Louis sweltered even more during the heat wave after storms caused the worst blackout in city history last week. AmerenUE Corp. brought in utility workers from around the country to help, but power was not completely restored until Friday, nine days later.
Minnesota residents on Saturday braced for a few more days of high temperatures and humidity. Minneapolis was under an excessive heat watch through Monday night.
In the northeastern part of the state, Minnesota Power asked customers to reduce nonessential use of electricity.
Copyright 2018 The Associated Press. All rights reserved. This material may not be published, broadcast, rewritten or redistributed. We strive to uphold our values for every story published.