San Francisco — Sweltering heat was blamed Sunday for at least three deaths in Northern California, including a resident at a nursing home who died after the facility's air conditioning system failed.
Triple-digit temperatures covered much of the Southwest. In California, the power grid manager warned the state might declare an emergency for the second straight day due to soaring electricity use.
Excessive heat warnings were in effect through parts of Southern California, where temperatures were expected to reach 99 degrees in downtown Los Angeles and 115 degrees in nearby Woodland Hills, where the mercury hit a record-setting 119 degrees Saturday.
No relief is expected until at least midweek, as weather conditions conspired to bake California's normally cool coast for a third day and bring Midwest-style humidity into the usually arid Central Valley.
In Stockton, more than 100 patients were evacuated early Sunday from the Beverly Healthcare Center after the nursing home's air conditioning gave out. One patient died, and another was hospitalized in critical condition.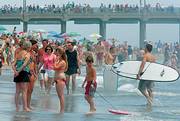 Investigators were looking into possible criminal charges, although it was too early to tell whether the facility operators were negligent, police spokesman Pete Smith said.
"It was very hot inside the facility, and you have to remember we're talking about elderly and infirm people who can't withstand the heat like a younger person would," he said.
The nursing home's phone was busy and a call to Beverly Healthcare's corporate headquarters in Fort Smith, Ark., was not returned.
In Modesto, a patient at Doctors Medical Center died Saturday of heart failure apparently caused by the heat after being admitted with a 106-degree temperature, hospital officials said.
Two others were hospitalized with 108-degree temperatures, including one who remained in critical condition Sunday. Hospital officials declined to release additional details.
Investigators believe Bakersfield gardener Joaquin Ramirez, 38, may have died of heat stroke after collapsing on the job late Wednesday, said division spokesman Dean Fryer.
The Kern County Coroner's office was investigating whether scorching temperatures were responsible for four deaths over the past two weeks.
Copyright 2018 The Associated Press. All rights reserved. This material may not be published, broadcast, rewritten or redistributed. We strive to uphold our values for every story published.