Don Schawang thinks Lawrence teens are ready for grown-up theater.
That's why he keeps challenging them with plays that tackle big social issues.
The latest, which opens Thursday at the Lawrence Arts Center, is "Caucasian Chalk Circle," a play that deals with issues such as war, socialism and what it means to be a parent.
"I'm used to going to theater as a form of charity, especially high school theater," Schawang says. "Especially high school theater has a stigma attributed to it, that it's all friends and family going to the shows. But I don't think that's the case at all."
Schawang, theater teacher at Bishop Seabury Academy, 4120 Clinton Parkway, is directing this month's play at the Lawrence Arts Center's Summer Youth Theatre. The production includes 36 students in eighth through 12th grades.
The play, written by Bertolt Brecht, follows a fleeing mother who forgets her child in the midst of a revolution, leaving her maid to rescue the child.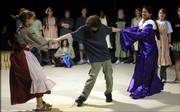 "The play becomes about what's the nature of care and responsibility," Schawang says. "It's a very powerful play. It's very funny in places. It's also very affecting."
All of the actors stand on stage for the entire play, with only a few simple props to aid them.
"This show is about acting," Schawang says. "It's not about set. It's a strong story, to be sure, but it requires imagination and an empathy from the actors and the things they're doing."
Not condescending
Schawang is on a quest to bring more of these sorts of plays to Lawrence teen theater.
At Bishop Seabury, he's produced Shakespeare's "A Midsummer Night's Dream" and, last summer, directed Summer Youth Theatre's "To Kill a Mockingbird."
"My high school experience, I was doing plays like 'MASH' and 'Ducktails and Bobbysocks,'" Schawang says. "I found I was spoken down to and condescended to."
He admits some plays aren't appropriate for teens when they deal with too much explicit language or content. But he says directors shouldn't back off material just because it's difficult. Those shows, he says, often lead to good theater.
Striking a balance
But picking dark and challenging plays isn't always the best option, says Nancee Beilgard, theater teacher at Free State High School, 4700 Overland Drive.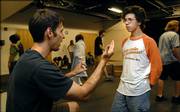 "Working with public schools, we're limited a little bit with language and content," she says. "SYT can get away with more things."
She says her students enjoy doing a mix of lighthearted plays and more serious works. Her fall lineup reflects that - Free State will stage "Gunplay," a play about the history of guns in society, and "Don't Drink the Water," a Woody Allen comedy.
No matter what students like, she says, ticket sales have to be a factor in any play or musical she selects.
"With the budget the way it is, tickets are our future," she says. "We have to have an audience to have a (theater) program."
See the show
What: "The Caucasian Chalk Circle," produced by Summer Youth Theatre When: 7:30 p.m. Thursday, Friday and Saturday, and 2 p.m. July 30 Where: Lawrence Arts Center, 940 N.H. Tickets: $8.50 for adults and $6.50 for students and seniors. Available by calling 843-2787.
Unexpected show
Sommer Brecheisen, a Lawrence resident who will be a junior at Shawnee Mission North High School, says she understands why most of the public doesn't go to high school plays.
The quality, she says, usually isn't very good.
"I don't tend to go to high school plays so much," she says. "They don't draw me, unless I know someone in them. I don't want to spend my money on it."
She's playing the roles of Aniko and Sandro Oboladze in "Caucasian Chalk Circle." She says she enjoys acting in serious plays but also would someday like to be in a play like "Picnic," which she calls "homey."
Tommy Cottin, a junior at Lawrence High School, 1901 La., says he finds plays like "Caucasian Chalk Circle" to be especially challenging. He portrays the character Azdak.
"It took me a long time to understand what I was saying," he says. "I'd have a long chunk of dialogue, and Schawang would say, 'Now what are you talking about?' And I'd say, 'I don't know.'"
Christine Caffey, who will be a junior at Bishop Seabury Academy, says she thinks plays like "Caucasian Chalk Circle" are unexpected from audiences attending a play put on by teens.
"It's very dark," she says. "It's not as light as plays you might expect high school students to do."
Schawang says he hopes young actors want to do more plays like this one, in addition to those shows that have become traditional playbills for high schools.
He loves to hear a common comment among audience members, though he's looking for a day when the audience can get beyond it.
The comment: "I can't believe this is a high school show."
Copyright 2018 The Lawrence Journal-World. All rights reserved. This material may not be published, broadcast, rewritten or redistributed. We strive to uphold our values for every story published.