New York — The damage to a utility's underground network in the borough of Queens is greater than imagined - a twist in the six-day power outage that could mean electricity won't be back until early in the week, the mayor said Saturday.
"It'll be done when it's done," Mayor Michael Bloomberg told reporters gathered in Queens' Astoria Park, where the city's emergency command center for the blackout is set up.
Consolidated Edison chief executive officer Kevin Burke apologized to customers for the inconvenience and attributed the outages to an unprecedented failure of multiple power lines.
"It was really a very extraordinary event, something that I've never seen before," Burke said. "I don't know right now what has happened."
The problem began with failures on a series of feeder cables, circuits that carry 27,000 volts and power entire neighborhoods, he said.
The cables are designed to compensate for failures - if one goes down, others pick up the load. On Monday, 10 feeder cables were out of service. Lower-voltage cables also were damaged, apparently by carrying larger than normal amounts of current, Burke said.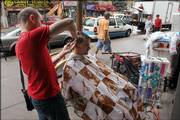 To hasten the restoration of power to as many as 18,000 customers, or about 72,000 people, electrical crews from as far away as Pittsburgh and Columbus, Ohio, were on their way to New York to assist Con Ed in the restoration of the network, Bloomberg said.
Severe thunderstorms Friday hindered repair efforts and knocked out some fixed circuits, Bloomberg said.
Con Ed crews "are going manhole to manhole, pulling up every line," the mayor said. As workers inspected underground cables and transformers, they "found more damage than they thought they would find. They were surprised."
Power has been out for many residents and businesses since Monday.
Some residents found their own solutions. One barber set up a generator on the street and cut hair on the sidewalk.
"It's very dark and you can't really see inside," said Hair Fantasy owner Rocco Aliberti. "It's very bad. We try to do as much as we can do. I've got to pay bills."
On Friday, Con Edison revealed the failure was 10 times larger than it had previously reported. The utility had initially said only 2,000 customers were affected.
The utility's acknowledgment that more customers were affected drew a furious response from some residents and city leaders.
"Con Edison's behavior has crossed the line from reprehensible to criminal," said Assemblyman Michael Gianaris, who called for an investigation.
Copyright 2018 The Associated Press. All rights reserved. This material may not be published, broadcast, rewritten or redistributed. We strive to uphold our values for every story published.