Washington — Democrats bucked decades of tradition Saturday by moving to wedge the state of Nevada between the long-standing one-two punch of Iowa and New Hampshire in the leadoff nominating contests for president in 2008.
To provide more diversity in early voting, the Democrats' rules and bylaws committee recommended Nevada be allowed to stage a caucus the Saturday after Iowa's leadoff caucus - likely to be Jan. 14. The rules panel also awarded South Carolina an early primary, which would be a week after New Hampshire's Jan. 22 primary.
The full Democratic National Committee will have to approve during its August meeting in Chicago before the changes are put in place.
The moves were praised by Alexis Herman, a co-chair of the rules panel, who said it was appropriate to make such changes "soon after the renewal of the Voting Rights Act," which protects the rights of minority voters. Almost a quarter of Nevada's population is Hispanic, and more than a quarter of South Carolina's population is black. Iowa and New Hampshire are predominantly white. But some raised warnings that the move was risky.
"We're fooling with a lot of history here, a lot of tempers," said veteran Democratic strategist Harold Ickes. "We need to proceed with caution."
Along with choosing the two states allowed to go early before voting is open to all states, the rules panel considered whether to allow the voting to start Jan. 7 - which critics said was too close to the holidays and wouldn't allow enough time for campaigning.
New Hampshire Democratic chairwoman Kathy Sullivan said starting Jan. 7 would have been more fair to early states and to candidates and would likely have made the changes more appealing to angry New Hampshire officials. "That's just one more negative to consider," she said.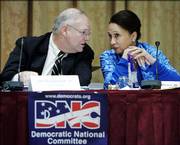 New Hampshire Secretary of State William Gardner will have to determine whether the Democrats' actions comply with a state law requiring that the Granite State's primary be scheduled a week or more before any "similar election." He could decide to move the New Hampshire primary earlier to protect its status.
Iowa and New Hampshire boast that they provide candidates a chance for face-to-face campaigning in small states, so the rules panel chose two more relatively small states that could provide similar opportunities for "retail politics."
And Jim Roosevelt, a co-chair of the panel, said placing a caucus before New Hampshire does not violate the state's law.
In a true caucus, voters attend lengthy meetings at a certain number of specified locations; such gatherings tend to attract party activists. Primaries are more like general elections, with a much broader voting population casting ballots at many polling places.
About a half-dozen White House hopefuls, the governor of New Hampshire and former President Clinton contend the party is tinkering for no good reason with a system that has worked for decades.
Ten states plus the District of Columbia had applied for the openings: Alabama, Arizona, Arkansas, Colorado, Hawaii, Michigan, Mississippi, Nevada, South Carolina and West Virginia.
The Democrats spent hours debating how their changes could satisfy all states and all constituent groups.
Copyright 2018 The Associated Press. All rights reserved. This material may not be published, broadcast, rewritten or redistributed. We strive to uphold our values for every story published.