After months of search warrants, police investigations and lost business, the owners of the Yellow House, 1904 Mass., have decided to shut their doors.
"I don't see it getting any better," owner Guy Neighbors said. "It's just too much stress to run a business under."
Neighbors said both the secondhand shop's business and building were officially on the market, and he planned to liquidate the longtime Lawrence business' inventory to help keep up with mounting bills.
Those bills have been more and more difficult to pay since police began a public investigation of the business in December last year, Neighbors said.
The Lawrence Police Department announced at the time that investigators suspected The Yellow House was the center of a large, sophisticated fencing ring that involved selling stolen goods on site and on an eBay auction site online.
Since then, Neighbors said, the department has shut down at least seven different eBay sites belonging to Guy and Carrie Neighbors, as well as their friends and family.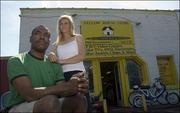 Police and federal authorities have also served at least two additional warrants.
The investigation has also expanded to the federal level, with both the U.S. Postal Service and Internal Revenue Service serving search warrants on the store and the Neighbors' home earlier this month.
Neighbors said he believed he and his wife were suspected of mail fraud.
The U.S. Attorney's Office, which is handling the federal prosecution, has not yet filed charges against the Neighborses.
Neighbors said he believed that closing his business could cut down the amount of time police had to file charges by limiting the property they could serve search warrants on.
Plus, he said he is fed up with police coming into the business because the store unknowingly bought an item that had been stolen.
"We just can't live anymore worrying about everybody that comes into the store," he said.
Neighbors has not set a date for the store's closing.
More about the Yellow House probe
Copyright 2018 The Lawrence Journal-World. All rights reserved. This material may not be published, broadcast, rewritten or redistributed. We strive to uphold our values for every story published.