Los Angeles — After delivering triplets three years ago, Angela Magdaleno thought she was done having babies. She was wrong four times over.
Magdaleno gave birth to quadruplets on July 6 by Caesarean section. She now has 10 children.
The latest additions - two girls and two boys - were doing well Wednesday, while their mother, resting at home, said, "I'm happy because they're healthy and so am I."
Still, Magdaleno, 40, worried she might be overwhelmed with the work and sometimes struggles with mixed emotions about the future.
"I don't know if I'm sad or happy," she said. "I'm happy but, I don't know. I don't know how to explain it."
Three years ago, Magdaleno gave birth to triplets after undergoing in vitro fertilization. She said her husband wanted many children. After their birth, she thought she was done having babies.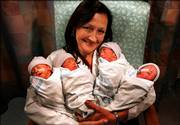 Then she became pregnant with the quadruplets. Magdaleno said she was shocked at the news.
"She wanted to run," said her husband, Afredo Anzaldo, 45.
Her doctor, Kathryn Shaw, a high-risk pregnancy specialist, said Magdaleno did well and had no complications.
The babies were born at 32 weeks - well beyond the 29-week average for quadruplets. At birth, the girls were 4 pounds and 17 and 17.5 inches long; the boys about 3.5 pounds and 16 inches long.
Shaw said the odds of conceiving quadruplets without fertility drugs are about one in 800,000. She's seen only one other case of quadruplets being conceived without drugs - 18 years ago.
Copyright 2018 The Associated Press. All rights reserved. This material may not be published, broadcast, rewritten or redistributed. We strive to uphold our values for every story published.