Red Buttons, the carrot-topped burlesque comedian who became a top star in early television and then in a dramatic role won the 1957 Oscar as supporting actor in "Sayonara," died Thursday. He was 87.
Buttons died of vascular disease at his home in the Century City area of Los Angeles, publicist Warren Cowan said. He had been ill for some time and was with family members when he died, Cowan said.
With his eager manner and rapid-fire wit, Buttons excelled in every phase of show business, from the Borscht Belt of the 1930s to celebrity roasts in the 1990s.
His greatest achievement came with his "Sayonara" role as Sgt. Joe Kelly, the soldier in the post-World War II occupation forces in Japan whose romance with a Japanese woman (Myoshi Umeki, who also won an Academy Award) ends in tragedy.
Josh Logan, who directed the James Michener story that starred Marlon Brando, was at first hesitant to cast a well-known comedian in such a somber role.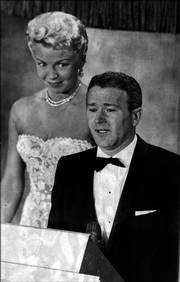 "The tests were so extensive that they could just put scenery around them and release the footage as a feature film," Buttons remarked.
Buttons' Academy Award led to other films, both dramas and comedies. They included "Imitation General," "The Big Circus," "Hatari!" "The Longest Day," "Up From the Beach," "They Shoot Horses, Don't They?" "The Poseidon Adventure," "Gable and Lombard" and "Pete's Dragon."
A performer since his teens, Buttons was noticed by burlesque theater owners and he became the youngest comic on the circuit. He had graduated to small roles on Broadway before being drafted in 1943.
Along with dozens of other future stars, including Mario Lanza, John Forsythe, Karl Malden and Lee J. Cobb, Buttons was enlisted for "Winged Victory," the play that famed director-playwright Moss Hart created for the Air Force. Buttons also appeared in the 1944 film version, directed by George Cukor.
Discharged in 1946, Buttons returned to nightclub and theater work. In 1952, CBS signed him for a weekly show as the network's answer to NBC's Milton Berle.
"The Red Buttons Show" was first broadcast on CBS Oct. 14, 1952, without a sponsor because the star was virtually unknown. Within a month, the show became a solid hit and advertisers were clamoring.
Buttons drew on all his experience for monologues, songs, dances and sketches featuring such characters as a punch-drunk fighter, a scrappy street kid, a Sad Sack GI and a blundering German. The hit of the show was a silly song in which he pranced about the stage singing, "Ho! Ho!... He! He!... Ha! Ha!... Strange things are happening!" It became a national craze.
After a sensational first season, "The Red Buttons Show" began to slide. Reports circulated that the star had fits of temper and frequently fired writers, and the show ended after three seasons.
"Certainly I made mistakes, and mistakes were made for me," he said in 1960.
"When you go into TV cold, as I did, it's murder."
While the failure was a severe blow to the normally optimistic comedian, he soon recovered and resumed his career as a guest star on TV shows. A straight role on "Suspense" brought him to the attention of Logan, who cast him for the career-making "Sayonara."
In 1966, Buttons starred in another series, "The Double Life of Henry Phyfe," as a humble accountant enlisted as a government spy. The show lasted only six months.
Over the years Buttons remained a steady performer on television, appearing on such series as "Knots Landing," "Roseanne" and "ER."
Still in good health at 76 ("They call me the only Yiddish leprechaun"), he appeared in 1995 in New York with an autobiographical one-man show, "Buttons on Broadway."
Buttons was born Aaron Chwatt on Feb. 15, 1919, son of an immigrant milliner, in a tough Manhattan neighborhood where, he once said, "you either grew up to be a judge or you went to the electric chair."
He struggled through schools in Manhattan and the Bronx - "Mom and Pop went to school as often as I did; they should have graduated with me." He started performing at the age of 12, winning an amateur contest singing "Sweet Jenny Brown" in a sailor's suit.
At 16 he was working as a singer and bellhop in a gin mill on New York's City Island. Because all bellhops were called Buttons and Chwatt had red hair, he got his new name.
During his summer vacation, he worked as a singer on the Borscht Circuit - the string of Catskills resorts catering to a largely Jewish clientele where Danny Kaye, Sid Caesar, Mel Brooks, Hart and others trained for stardom.
Buttons was married and divorced twice in his early career. He is survived by his third wife, Alicia, their children, Amy and Adam, and a sister.
Copyright 2018 The Associated Press. All rights reserved. This material may not be published, broadcast, rewritten or redistributed. We strive to uphold our values for every story published.