New York — A four-story building on Manhattan's Upper East Side collapsed into a pile of rubble Monday after a thunderous explosion that hurled fireballs skyward and left an upscale block littered with bricks, broken glass and splintered wood.
Authorities said the blast was caused by gas, and they were investigating whether it was the result of a suicide attempt by the building's owner, a doctor who was going through a bitter divorce. The doctor, Nicholas Bartha, 66, and a passer-by were severely hurt; at least 13 others had minor injuries.
Shortly before the blast, Bartha sent out a rambling e-mail to his wife in which he contemplated suicide, a police official told The Associated Press on condition of anonymity because the investigation is ongoing.
"When you read this ... your life will change forever," the e-mail read in part. "You deserve it. You will be transformed from gold digger to ash and rubbish digger. You always wanted me to sell the house. I always told you I will leave the house only if I am dead."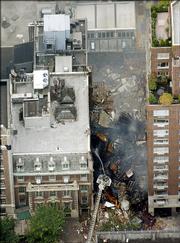 The injured included five civilians and 10 firefighters. Bartha was pulled from the rubble after talking with authorities from his phone while buried in the wreckage, Fire Chief Nicholas Scoppetta said.
Bartha recently lost a $4 million judgment in the divorce case, and court records chronicle a nasty dispute that spanned five years. The building was worth nearly $5 million based on a 2004 assessment, and was to be sold at auction to pay the judgment.
In a petition filed this year, Cordula Bartha asked that deputies remove Nicholas Bartha from the residence. "I have no doubt that (he) will ensconce himself in the marital residence and refuse to leave it after the auction is held. He has said many times that he intends to 'die in my house.'"
A message seeking comment from Nicholas Bartha's attorney was not immediately returned. Attorneys for 64-year-old Cordula Bartha issued a statement: "Ms. Bartha cannot at this time withstand the additional burden of the media microscope on this personal tragedy. Ms. Bartha and her family are deeply saddened and terribly upset by today's occurrence."
Heavy black smoke rose high above the 19th-century building, just a few blocks from Central Park. Debris was strewn everywhere. Four of the injured were pedestrians, and some were found covered in blood on the street.
"This could have been an even worse disaster than it already is," Scoppetta said.
Power company Consolidated Edison said an employee had been in the basement of an adjacent building responding to a complaint about a smell of gas at the time of the blast. The employee was unhurt.
The utility had been at the Bartha building June 8 after a routine check found a gas leak on a pipe in the basement. The gas was shut off, and Nicholas Bartha was asked to get the pipe fixed, spokesman Joe Petta said. The gas was turned back on when the utility ensured the leak was fixed.
Yaakov Kermaier, 36, a resident in a building next door, said he was outside when he heard "a deafening boom. I saw the whole building explode in front of me. Everybody started running, nobody knew what was coming next," he said. His nanny and newborn escaped from their next-door apartment unharmed.
The building housed two doctors' offices. Authorities said a nurse who was supposed to open one of the offices arrived late, narrowly missing the explosion.
Copyright 2018 The Associated Press. All rights reserved. This material may not be published, broadcast, rewritten or redistributed. We strive to uphold our values for every story published.