Andrea Sumpter knew she should have read her lease more carefully. That's her fault, she admits.
But, she said, there's no way her apartment should have been in this condition.
"It's a mistake I'll never make again," the Kansas University student said.
The mistake, Sumpter claims, was overlooking the automatic renewal clause in her lease with property owner Del Hedgepath, who owns two other rental properties in Lawrence.
The clauses included in many Lawrence leases automatically bind tenants to another year in a house or apartment unless they give landlords written notice that they want to leave.
In June, when Sumpter realized that she would be forced to live in the upstairs apartment of the home for another year, she suddenly began to take notice of her surroundings.
She listed a number of problems, which concerned her.
Photo Gallery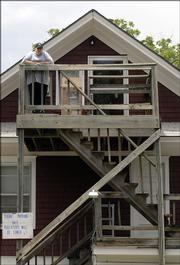 Condemned house
She called housing hot lines and asked for advice, she said. Everyone told her to report the property to the city.
When city inspectors from the Neighborhood Resources division arrived at the property Friday, they found a slew of problems, inspector Brian Jimenez said. Among them:
¢ No smoke detectors anywhere in the building.
¢ The deck was shoddily constructed and was the only exit for the top floor apartment.
¢ Windows in the basement apartment of the house were too small and didn't exist at all in some bedrooms, making escaping a fire nearly impossible.
¢ Potential electrical problems because of the breakers.
¢ Water infiltration that led to strong mold and mildew smells in the house.
The problems in the top- and bottom-floor apartments were so severe that that city condemned them, forcing Sumpter and the basement's residents out of the building by today.
Jimenez said that there were code violations in the middle apartment as well, but nothing that required the residents to be vacated.
"We're going to make sure that before he rents to anyone else it will have to be up to code," Jimenez said. "If he doesn't want to make the repairs, we can always pursue prosecution through municipal court."
Hedgepath said in a phone interview Saturday that he purchased the home 10 years ago with the porch already constructed.
"I had no way of knowing that it wasn't up to code," he said.
As for the basement, he said he knew the windows were small but believed that the house had been grandfathered in when city codes changed in 1997.
Regardless, he said, he plans to bring the house up to code immediately.
As for the automatic renewal clause in his lease, Hedgepath insisted that his leases are straightforward and easy to read, spanning only two pages.
It's not his job to remind his tenants to give notice if they are moving out, he said.
"The lease is clear. I don't get on the phone and call people," he said. "If I happen to talk to them, I tell them: Make sure to get that written notice to me."
But the city may never have known about the problems if not for Sumpter's anger over her automatic lease.
This legislative session, Kansas University's student government lobbied for changes to the Landlord and Tenant act, including addressing automatic renewals.
Their attempt failed.
Skylar Hurst, who lives in the apartment below Sumpter, said she and her roommate knew about the lease agreement because she didn't want to remain in the home longer than her current lease requires.
"We paid attention," she said.
But Sumpter didn't, and now she regrets it. She'll make do, she said, commuting from her parent's home in Lenexa until she finds a new place.
Her only hope now was that others could learn from her mistake.
"Read your lease," she said. "Know what you're getting into."
Copyright 2017 The Lawrence Journal-World. All rights reserved. This material may not be published, broadcast, rewritten or redistributed. We strive to uphold our values for every story published.