Houston — Enron Corp. founder Kenneth Lay gave his role in the scandal that enveloped him and his company the most final ending possible.
The ever-optimistic former business visionary whose reputation shattered in 2001 along with the one-time energy trading giant faced decades in prison - essentially a life sentence for someone a year away from qualifying for Medicare.
On Wednesday, he succumbed to a fatal heart attack at his rented vacation home in Aspen, Colo.
Now he won't see the inside of a cell. Nor will he see his wife, children or dozen grandchildren again.
"It's a sad ending to me. On the other hand, it might be a merciful one, because he was not staring at a happy retirement as he had anticipated," said John Olson, an analyst whose skepticism of Enron's near-indecipherable financial disclosures angered Lay years before Enron imploded.
Lay told jurors during his trial that he had achieved the American dream as well as the American nightmare.
Throughout the grueling four-month trial, during which he turned 64, Lay was consistently upbeat and smiling, most often hand-in-hand with his wife, Linda.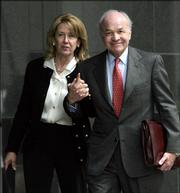 Then came the conviction. Lay's face went ashen upon hearing that his co-defendant, former Enron CEO Jeffrey Skilling, was convicted of 19 of 28 counts of fraud, conspiracy, insider trading and lying to auditors. U.S. District Judge Sim Lake then turned his attention to Lay, reading "guilty" 10 times - six for the case with Skilling, and four from a separate, nonjury bank fraud trial conducted during deliberations.
Lake then did something particularly humiliating to a man used to giving orders. He forbid Lay to even leave the courtroom until others brought his passport to the courthouse and surrendered it. Lay had to stand in the courtroom for several hours.
"This is not the outcome we expected," Lay said later, his face white and his bravado gone.
Lay then stayed out of the public eye, quietly leaving Houston for the only place his bond would allow him to go - to his frequent vacation spot near Aspen.
"I guess when you're facing the rest of your life in jail and in your heart you know you're an innocent man, I guess it's too much to bear," said close friend Willie Alexander of Lay's sudden death.
"Apparently, his heart simply gave out," said Lay's pastor, Steve Wende of First United Methodist Church in Houston.
Mesa County Coroner Robert Kurtzman was more clinical, saying Lay's autopsy showed severe coronary artery disease caused death and had found evidence of a previous heart attack.
Skilling 'devastated'
Lay was scheduled to be sentenced Oct. 23, along with Skilling, who also faces a long prison term.
Skilling, reached by telephone at his home in Houston, said he was aware of Lay's death, but said quietly, "No, I don't have any comment."
His lawyer, Daniel Petrocelli, described Skilling as "devastated."
"Jeff and Ken worked closely over the years, and Jeff will miss him dearly," Petrocelli said.
Lay led Enron's transformation from a staid natural gas pipeline company formed by a 1985 merger to an energy and trading conglomerate that reached No. 7 on the Fortune 500 in 2000 and claimed $101 billion in annual revenues. Lay traveled in the highest business and political circles, lived an extravagant lifestyle and gave generously to charities - as much as $6.1 million in 2001.
Lay's clout evaporated when Enron spiraled into bankruptcy protection in December 2001.
The government's widespread fraud investigation enveloped Enron's finance, trading, broadband and retail energy units and amassed 16 guilty pleas from ex-executives - eight of whom testified against Skilling and Lay during their trial.
Lay and Skilling insisted no fraud occurred at Enron except from a few employees who skimmed money behind their backs. Jurors were unconvinced.
Lay compared the aftermath of Enron's failure, which obliterated thousands of jobs and $60 billion in market value, to the pain of losing a loved one.
"I'm sure there's absolutely nothing in my life, including the loss of life of many of my loved ones, that even comes close to the same level of pain, and the same enduring pain, that has caused," he testified.
Legal implications
Prosecutors in Lay's trial declined comment Wednesday, both on his death and what may become of their effort to seek $43.5 million from Lay that they say he pocketed as part of the conspiracy. The government is seeking $139.3 million from Skilling.
Lay's death will not affect the case against Skilling, who will appeal his convictions, Petrocelli said.
Lay was born in Tyrone, Mo., and spent his childhood helping his family make ends meet. His father ran a general store and sold stoves until he became a minister, and Lay delivered newspapers and mowed lawns. He attended the University of Missouri, found his calling in economics and went to work at Exxon Mobil Corp.'s predecessor, Humble Oil & Refining.
He joined the Navy, served his time at the Pentagon, and then served as undersecretary for the Department of the Interior before he returned to business. He became an executive at Florida Gas, then Transco Energy in Houston, and later became CEO of Houston Natural Gas. In 1985, HNG merged with InterNorth in Omaha, Neb., to form Enron, and Lay became chairman and CEO of the combined company the next year.
Copyright 2018 The Associated Press. All rights reserved. This material may not be published, broadcast, rewritten or redistributed. We strive to uphold our values for every story published.