Cape Canaveral, Fla. — NASA chief Michael Griffin is taking a calculated gamble by going ahead with the launch of Discovery, overruling two top managers who fear foam flying off the fuel tank might harm the space shuttle.
The world will soon know if his gamble pays off.
Discovery was set to blast off from Kennedy Space Center at 2:49 p.m. CDT today, the first launch of a space shuttle in almost a year and only the second since the Columbia disaster in 2003.
Storm clouds forecast for the afternoon remained the chief obstacle to launch. The shuttle faced no technical problems a day before launch.
The seven astronauts say they are confident of his decision to go ahead, but hardly any astronaut ever publicly expresses fears before a launch.
"I believe we'll be as safe as we were on my other flights," said Steve Lindsey, Discovery's commander who has flown on three previous shuttle missions. "I haven't really seen a decision made that I didn't agree with."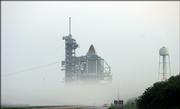 Faced with a 2010 deadline to finish building the international space station and end the shuttle program, Griffin wants to get the shuttles flying again and believes a delay now would create schedule pressure toward the end of the decade.
He has acknowledged, though, that he would likely shut down the shuttle program if there is another vehicle lost like Columbia or Challenger.
"We are playing the odds," Griffin said Friday. "What you pay us for as taxpayers is to understand those odds in great detail ... It's called risk management."
The board that investigated the Columbia accident faulted NASA three years ago for placing schedule concerns ahead of safety, squelching dissent and steamrolling over the concerns of engineers who worried that foam from the huge external fuel tank had hit Columbia. Fiery gases were able to penetrate the wing where the foam knocked a hole, causing the shuttle to disintegrate. All seven astronauts were killed.
This time, NASA has aired its internal dissent publicly.
Bryan O'Connor, the space agency's chief safety officer, and chief engineer Christopher Scolese recommended at a meeting two weeks ago that the shuttle not fly until further design changes are made to 34 areas on the fuel tank known as ice-frost ramps. Foam insulation is used to prevent ice from building up on the tank when it is filled with supercold fuel. Small pieces of foam have snapped off during previous launches.
At the meeting, Scolese wrote in a report that he signed, "I remain no-go based upon the potential loss of the vehicle."
Copyright 2018 The Associated Press. All rights reserved. This material may not be published, broadcast, rewritten or redistributed. We strive to uphold our values for every story published.