Memphis, Tenn. — Elvis left the building years ago, but Japanese Prime Minister Junichiro Koizumi channeled his spirit Friday during a visit to the performer's Graceland mansion.
Standing next to President Bush in the garish "jungle room," a Polynesian-inspired sanctuary filled with fake-fur chairs, ceramic monkeys and green shag carpet on the floor and ceiling, Koizumi broke into song. He crooned a few lines from "Love Me Tender" and "Fools Rush In," before slipping on a pair of Elvis Presley's signature sunglasses and attempting a few gyrations. At 64, he couldn't swivel his hips quite like the King in his prime.
Still, he ended with a classic late-Elvis flourish, crouching, waving his arm in a windmill and singing, "Glooory, glooory, haaalleluuujah!"
It was perhaps the most bizarre moment in one of the strangest road trips in diplomatic history - a U.S. president and a Japanese prime minister paying homage to The King of Rock 'n' Roll.
Bush's black presidential limo swept past Presley's pink Cadillac as he and Koizumi arrived for a tour led by Presley's former wife, Priscilla, and his daughter, Lisa Marie. The Presleys seemed to enjoy Koizumi's performance almost as much as he did.
"We need a karaoke machine," Presley's widow joked during Koizumi's jungle-room show.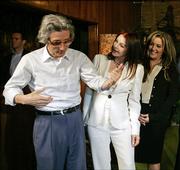 Bush took his pal to the rock 'n' roll shrine as payback for Koizumi's steadfast support and friendship. Koizumi, an avid Elvis fan who shares Presley's Jan. 8 birthday, plans to step down from his post in September.
He called his Graceland visit a dream come true.
"I knew he loved Elvis," Bush said. "I didn't realize how much he loved Elvis. He not only knows Elvis history, he can sing a pretty good Elvis song."
After leaving Graceland, Bush and Koizumi stopped at a more somber Memphis landmark - the motel where civil rights leader Martin Luther King Jr. was assassinated in 1968.
The former Lorraine Motel now houses the National Civil Rights Museum. They stood on the balcony where King was shot.
But the day was devoted to Elvis from the moment Bush and Koizumi boarded Air Force One. Presley's songs played from the aircraft's speakers. The options for in-flight entertainment included two Elvis movies, "Love Me Tender" and "Viva Las Vegas."
At Graceland, the two leaders got the standard tour, but with more knowledgeable tour guides, better access to rooms and the chance to handle some of Presley's personal items.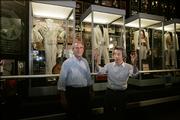 Still, even the president didn't get to go upstairs, where Presley died in 1977 from heart problems and drug abuse. The mansion, set on 14 acres south of downtown Memphis, draws about 600,000 visitors annually.
"This is the White House of rock 'n' roll," said Graceland spokesman Kevin Kern.
More than four dozen Japanese reporters came to Graceland to chronicle Koizumi's visit. Some were a little perplexed by his enthusiasm for the rock king.
"I've never heard Elvis Presley songs," said Hitoshi Inoue, a Washington correspondent for TV Asahi.
Koizumi couldn't stop singing them. He sang as he threw his arm around Lisa Marie Presley, 38, serenading her with one of her father's classic love songs, "Hold me close, hold me tight." She giggled.
Lisa Marie, who married musician Michael Lockwood last January in Kyoto, Japan, bantered with Koizumi in Japanese when he told her she looks like her father.
The Japanese prime minister sang a few more snippets as he and Bush prepared to leave.
"It's a like a dream," Koizumi said, cueing up his version of "To Dream the Impossible Dream." "Thank you very much for treating me nice," he added, setting up a snippet from "Treat Me Nice."
At that point, Bush dropped the curtain.
"We're going to have some barbecue," the president announced, closing Koizumi's performance.
Copyright 2018 The Lawrence Journal-World. All rights reserved. This material may not be published, broadcast, rewritten or redistributed. We strive to uphold our values for every story published.