If you ask Merry Chadwick, she'll tell you she plays for quite possibly the best concert band in the country.
And that's a confident statement for someone who hasn't even graduated from college.
"The St. Olaf Band has a tone that is richer and deeper than any other band I've heard," says Chadwick, a Lawrence native in her junior year at St. Olaf College in Northfield, Minn., where she plays oboe in the nationally acclaimed band.
She and fellow 2003 Free State High School graduate Annie Kettle, a French horn player, return home today for the first Lawrence performance by the 90-member ensemble. The concert starts at 7 this evening in the FSHS auditorium, 4700 Overland Drive.
"I am very excited to bring the band to my home stage and have the chance to perform for a hometown crowd," Chadwick says. "The concert program is fabulous, the band is sounding good - as always - and I hope all the auditorium seats will be filled for this wonderful concert."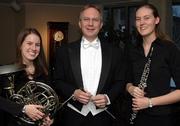 The century-old band is the oldest musical organization at St. Olaf College. Its first tour, in 1903-'04, took it to Iowa. And in 1906, the band traveled to Norway for a four-week, 30-concert tour, making it the first American college band to take a European tour.
The band returned to Norway in June with the school's orchestra and choir, and Chadwick and Kettle got to make the overseas journey.
"That was a fabulous experience, playing in the largest concert halls and cathedrals, as well as ancient cathedral ruins and the tiny home church of the founder of St. Olaf," Chadwick says.
Celebrated conductor-composer and St. Olaf alumnus Timothy Mahr directs the band. One of his pieces, "They Sing of Love," will be on the program at the Lawrence concert. The band also will play Dmitry Borisovich Kabalevsky's Overture to "Colas Breugnon" and the premiere of David Maslanka's Symphony No. 7.
Chadwick, 20, and Kettle, 21, grew up in Lawrence, took music lessons from local teachers and performed in vocal and instrumental ensembles at Free State.
Pam Bushouse remembers them well.
"Both of these girls were very involved in music," says the FSHS choral director. "That was one of their primary focuses in high school."
In addition to being an "awesome" French horn player, Bushouse says, Kettle was president of the chamber choir and won a national choral award. Chadwick excelled at oboe - she's the oboe section leader in the St. Olaf Band - and voice.
"This year she had the opportunity to be in the St. Olaf Choir, so she had to make a choice between the two and ended up going band," Bushouse says. "But she really does sing beautifully."
So Chadwick, the daughter of Denny and Judy Chadwick of Lawrence, gets her vocal fix by singing in Cantorei, one of the school's upperclassmen audition choirs. She's majoring in vocal and instrumental music education, with a career goal of directing a high school choir.
Kettle is a music education major who, before heading to college, once performed with the Lawrence Chamber Orchestra and was featured on the nationally broadcast radio show "From the Top." Her parents are Dean and Judy Kettle of Lawrence.
She's looking forward to Sunday's homecoming.
"I am excited to share my college musical experience with family and friends back home," Kettle says. "This is a unique opportunity for my past and present to meet.
"I am proud to show Lawrence the St. Olaf Band, and I am proud to bring the band to such a great town."
Copyright 2018 The Lawrence Journal-World. All rights reserved. This material may not be published, broadcast, rewritten or redistributed. We strive to uphold our values for every story published.