A group of parents and children rallied Friday in support of a school crossing guard who's been asked to tone down her friendly waving.
"You've got friendliness under fire here," said Dawn Thompson, a Prairie Park School parent who helped organize the rally after learning that crossing guard Sharon White, 62, had been discouraged from waving at passing drivers. "It's crazy."
A citizen called the city Thursday to complain that White's constant waving at the intersection of 28th Street and Kensington Road was too distracting for drivers. White said her supervisor with the Lawrence Police Department told her later that day it would be best if she stopped waving.
On Friday morning, she followed those instructions.
"I tried to smile instead," White said. "I had to hold my sign and grip it this morning to keep from waving at others."
Prairie Park resident John Shoemaker, 44, was the one who called in the complaint. He said he'd been frustrated about White's waving for a while but decided to call the city only after seeing a different crossing guard in the area wave at drivers with his hand-held stop sign - a gesture Shoemaker said caused him to hit his brakes thinking he needed to stop.
Shoemaker, who has older children but none at Prairie Park, said he's not out to attack friendliness. He's just worried about someone getting hurt.
"If the crossing guard is waving at every single car that passes, then she's commanding the attention. She's drawing the attention to herself," he said. "How does she pay full attention to the kids to get them across the street? : This waving thing is out of control."
Sgt. Dan Ward, a Lawrence Police spokesman, said he couldn't discuss details of White's situation because it was a personnel matter. He said the department would never give an employee an order to not be friendly or wave to the public.
White said it wasn't an order, just an instruction that it would be better to stop.
"I agreed with my boss that it could be a distraction," she said. "This is a busy intersection."
But parents, children and staff members didn't take the news well. Many children in Prairie Park walk to school, and White's friendliness has made her a neighborhood icon.
"We really felt like it was unfortunate that one or two people could have such an impact on something that we all found so delightful," Prairie Park principal David Williamssaid.
Thompson said she started crying when she stopped to talk with White on Friday morning and learned the news.
At the end of school Friday, about 20 parents and 35 children gathered at the intersection. White said she had no idea they were coming, and thanked the children and parents for their support.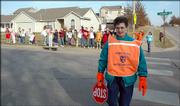 The protesters held signs, turned cartwheels, waved at passing motorists, chanted "Save the wave!" and even did the famous sporting-event cheer, "the wave."
"It makes me happy that she waves in the morning," said Christina Phelps' 9-year-old daughter, Harley, a Prairie Park fourth-grader.
Most of the drivers who passed either honked or waved. Shoemaker himself drove past the rally at one point.
He didn't wave.
"No, no," he said. "That would violate my principles."
Copyright 2018 The Lawrence Journal-World. All rights reserved. This material may not be published, broadcast, rewritten or redistributed. We strive to uphold our values for every story published.