Baghdad, Iraq — The U.S. military released five female Iraqi detainees Thursday, and a top Iraqi police officer expressed hope the move might help win the freedom of kidnapped American Jill Carroll.
However, U.S. officials insisted the release was not linked to the demand by Carroll's kidnappers that all female detainees be freed. The women were among 420 detainees being released Thursday and today, the U.S. command said.
Gen. Hussein Ali Kamal, head of intelligence at the Interior Ministry, said freeing the Iraqi women "might assist in releasing Carroll," a freelance reporter for The Christian Science Monitor.
"Any announcement may not benefit the case because of its sensitivity, but we can say, 'God willing,' that she will be released," Kamal said.
U.S. Embassy spokesman Tom Casey said American authorities were not convinced the release of the Iraqi women would have any influence over the kidnappers.
"If this provides them with a justification to release Jill, that would be wonderful, but we are not sure it will," Casey said. "We just want her released by any means."
Last week, the military confirmed it was holding nine Iraqi women, and it was not known when the others might be let go. Two more women were detained Wednesday for alleged insurgent activities, the military said Thursday.
Iraqis taken into custody on suspicion of insurgent activity are interrogated and investigated to determine if there is evidence to charge them. The cases are referred to a U.S.-Iraqi committee, which determines if the detainees should be released. The process can take months.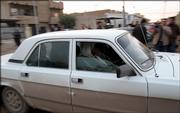 Carroll, 28, was kidnapped by gunmen Jan. 7 after leaving the Baghdad office of a Sunni Arab politician, Adnan al-Dulaimi. Her translator was killed and her driver fled.
The kidnappers identified themselves as a previously unknown group, "The Revenge Brigade." They issued a videotape of Carroll that first aired Jan. 17 on Al-Jazeera television and said they would kill her unless all Iraqi women in detention were freed within 72 hours. The deadline passed without any word.
The reporter's parents have made repeated televised pleas for their daughter's release. A Washington-based American Islamic advocacy group flew to Baghdad to drum up support for Carroll, and Islamic leaders from Iraq to Paris have called for her freedom.
David Cook, Washington bureau chief for The Christian Science Monitor, said Thursday that "neither the family nor the Monitor has had any contact with the captors."
A hostage specialist team, including FBI agents, U.S. diplomats and the American military, has been working with Iraqi authorities to chase down leads and contact Iraqi political figures who may have connections to the kidnappers.
Copyright 2018 The Associated Press. All rights reserved. This material may not be published, broadcast, rewritten or redistributed. We strive to uphold our values for every story published.