Baghdad, Iraq — Two near-simultaneous bombings Thursday targeted a crowded downtown Baghdad coffee shop and a nearby restaurant, killing more than a dozen people. The attacks came as a foreign assessment team reported evidence of fraud in the Dec. 15 elections but did not endorse calls for a rerun.
The bombings occurred despite government moves to heighten security as the election commission prepares to announce the election results. The announcement, which could come today, sets the stage for talks on a new national unity government U.S. officials hope will help calm the insurgency and enable the United States to begin withdrawing its 140,000 troops.
The first explosion occurred at a coffee shop on bustling Saadoun Street in the heart of Baghdad. Seconds later, a blast caused by a planted bomb rocked a restaurant just down the street.
Some officials said the first blast was triggered by a suicide attacker wearing an explosive vest, while others insisted both were caused by bombs detonated by remote control.
Officials variously reported the death toll between 13 and 25. Police Lt. Osama Mohammed blamed the confusion on miscounting of bodies because the blast sites were so close.
The explosions shattered shop windows and destroyed several cars. Wooden tables and chairs were strewn over the bloodstained pavement as rescue workers treated the wounded. Two men sobbed beside the bodies of two men covered with bloodstained blankets outside the coffee shop.
Thursday's blasts were part of a surge in violence in Iraq this week. U.S. and Iraqi officials have predicted a spike in attacks when the election figures are released.
Maj. Gen. Mahdi Sabih Hashim said Thursday that heightened security would be in effect nationwide in the "coming days." He gave no details but said authorities intended to go after "terrorists deep in their hideouts."
Preliminary reports indicate an alliance of Shiite Muslim religious parties won the most seats in the 275-member parliament but not enough to govern without coalition partners, including Sunni Arabs and Kurds. The Shiite alliance dominates the current government.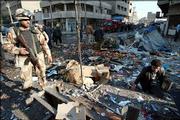 Final results have been withheld pending a report by a foreign assessment team into allegations of fraud leveled by major Sunni Arab parties. On Thursday, the team released its report saying it found numerous violations and indications of fraud. But it did not call for a new vote, as some Sunnis had demanded.
The International Mission for Iraqi Elections praised the ability to hold elections during a raging war and said there was an "urgent need ... for a formation of a government of true national unity."
After election results are announced, the parliament must choose a new government, including a president, prime minister and Cabinet. The United States hopes an inclusive government can win the trust of Sunni Arabs, which make up the backbone of the insurgency.
Copyright 2018 The Associated Press. All rights reserved. This material may not be published, broadcast, rewritten or redistributed. We strive to uphold our values for every story published.