A four-year program to increase business investments and jobs in Lawrence and Douglas County still has a ways to go but appears to be headed toward success.
As the Lawrence Chamber of Commerce Excellence by Design program heads into its fourth year, it has brought 1,202 jobs and more than $112.13 million in business investments to the area.
When it was started in late 2002, Excellence by Design organizers set a goal of raising $40 million in investments for each of the four years as well as a total of 2,000 jobs during that time. Although still short of those goals, Chamber officials are still confident they can be reached.
"I think the program has gone pretty well," Chamber President Lavern Squier said. "I think Lawrence is a leader among communities in the country to really step up to the plate with private investors, showing its commitment to the overall economic development effort in a concentrated way."
The program began in 2003 with a campaign that raised $1.2 million from 124 companies to recruit and retain businesses.
Public-private partnerships that already were in place have been beneficial to the program, including partnerships with the city of Lawrence and Douglas County, Squier said.
"Excellence by Design essentially serves to augment our programming and raise it to a higher level. I think it is important to keep it there," Squier said.
Here's the year-by-year breakdown of how many jobs were added and business investments:
¢ 4th quarter 2002: 60 jobs, $28 million.
¢ 2003: 313 jobs, $41.26 million.
¢ 2004: 478 jobs, $26.09 million.
¢ 2005 until Jan. 5, 418 jobs, $16.78 million.
¢ Total: 1,202 jobs, $112.14 million.
Joan Golden and Sharon Spratt are the current co-chairwomen for the campaign, and they, too, are pleased with Excellence by Design.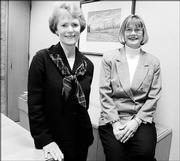 "It has been very successful and certainly good for Lawrence," said Spratt, executive director at Cottonwood Inc.
Golden and Spratt are leading about 50 chamber members in 15 teams who are involved in the program.
"We are utilizing the efforts of our chamber members to go out and visit with the current (business) investors and prospects over the next few months," said Golden, senior vice president at US Bank in Lawrence. "We want to kick it off following the annual investors luncheon on Feb. 2."
There are currently more than 120 investors who will be visited by chamber members in the hope that they will continue their economic investment in the community. Then there are new business prospects that will be called on, Golden said.
Among the business successes counted during the past three years were Serologicals Corp. locating a $28 million plant in Lawrence with 26 employees. Although the work force was cut back last year, it ultimately plans to have nearly 50 employees.
Other successes:
¢ Amarr Garage Doors, $18.5 million in investments and 80 new jobs
¢ Sauer-Danfoss, $18.5 million in investments and 92 new jobs
¢ Protection One, 65 new jobs
The chamber's business retention effort was elevated by Excellence by Design, Squier said, adding that retention will always be an ongoing process.
Excellence by Design has helped the retention and development process because it has augmented what the chamber normally does with additional funding and individual assistance, Squier said.
"I think fiscal limitations will always come into play," he said. "There are only so many people or paths you can program into a service. What this has allowed us to do is enhance some of the very basic elements we had under way but bring in some new elements as well."
Copyright 2018 The Lawrence Journal-World. All rights reserved. This material may not be published, broadcast, rewritten or redistributed. We strive to uphold our values for every story published.