Yet another Jayhawk sculpture fell prey to vandals this week. This time the culprit was captured on a surveillance camera.
Jayhawk Bookstore, 1420 Crescent Road, reported Tuesday that Bit o' Hawk, a sculpture decorated with mosaic tiles, was ripped from its base and left on its side in front of the store. It happened between the end of the Kansas University-University of Missouri basketball game and 2 a.m. Tuesday.
"If this is sports rivalry-related, there are other ways," Bill Muggy, the bookstore's owner, said. "The field. The court. That's where this need to be taken out. Not on property."
Bit o' Hawk was one of the many stars of the 2003 Jayhawks on Parade display. Three Jayhawk sculptures, including Bit o' Hawk, stand on the bookstore property.
Bit o' Hawk is popular with tourists and students, Muggy said.
Another popular sculpture, "Classic Jayhawk," recently was retired from its perch outside the Kansas Union after a December incident in which it was ripped from its base.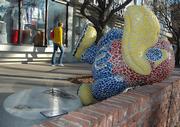 Muggy said it was very disappointing to see what happened to the Bit o' Hawk sculpture.
"This particular Jayhawk had been rehabbed by us last summer, bringing it back to a youthful-looking Jayhawk," he said. "Now it looks like it's on siesta."
The bookstore will attempt to clean up the sculpture and eventually will return it to the perch. But that may not be until March.
The bookstore reviewed footage from its security cameras Tuesday and found a record of the incident, though the images are dark and do not show the culprit's face.
The images are obscured by an outdoor light shining in the direction of the camera. But the footage shows the Jayhawk shaking back and forth and then falling, all within a few minutes. It shows a person topple the sculpture before running away. The incident was reported to Lawrence Police.
Copyright 2018 The Lawrence Journal-World. All rights reserved. This material may not be published, broadcast, rewritten or redistributed. We strive to uphold our values for every story published.