Imagine Lawrence being hit by a massive F-5 tornado similar to one that struck the Oklahoma City area in 1999.
It would leave death and devastation in its wake. Emergency services would be taxed to the max, if they operated at all. It could be a Katrina-style disaster in Kansas.
That is why Douglas and other Kansas counties in recent years have attempted to organize and train civilian volunteers in the basics of emergency response. Since the Community Emergency Response Team, or CERT, began a year ago in Douglas County, about 150 people have been trained locally, Emergency Management Director Paula Phillips said.
"It's just a way to increase citizen awareness not only of the threats that are local but also personal responsibility in preparedness," Phillips said. "And it also gives them some training so that if something does happen they can potentially be of some assistance in their own neighborhood."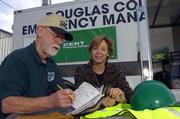 The training includes lessons in first aid, disaster preparedness, fire safety and firefighting, light search and rescue, and utility operations, to mention a few.
"It's very basic," Phillips said of the training. "They could be doing anything from handing out water boil notices, helping us organize volunteers to fill sandbags, to doing searches in the woods."
Once people have completed the training they have the chance to get more advanced training, if they become a volunteer for Phillips' office. In fact, CERT training is now required for anyone who wants to be an emergency management volunteer. About 50 people who have taken the training were already volunteers or decided to become one, Phillips said.
Mark Cairns was already a volunteer storm watcher in the Skywarn program. He also has medical training and is a former trainer for the Kansas University men's basketball team. Cairns recently took over as director of the CERT program.
"With my medical background I wanted to get all the training," Cairns said.
CERT members have staffed first aid stations and directed traffic at local events such as the Baldwin Maple Leaf Festival and the Wakarusa Music and Camping Festival at Clinton Lake. After last year's Wakarusa festival they helped search for a reported missing person who, as it turned out, had simply left Lawrence without telling his friends.
How to help
A series of training classes to become a volunteer in the Community Emergency Response Team program will begin Jan. 24. The classes, which involve 24 hours of training, will continue from 7 p.m. to 10 p.m. every Tuesday through April 4. The final class will be a content test. There is no charge for taking the class. The class will be limited to 20 people. Register by calling 832-5259.
Retiree Bud Waugh has had the CERT training and is now an instructor. He was among local emergency workers who went to Florida and the Gulf Coast to assist in the aftermath of the recent hurricanes. Waugh said CERT would help people take care of themselves in a disaster when emergency services can't respond.
"In a disaster, firefighters and police officers are not going to be at everybody's house," Waugh said. "They are going to be busy at other places, and that goes for ambulances and hospitals, too. I think people rely too much on the government to help them."
The nation's first CERT program was started in 1985 by the Los Angeles Fire Department. L.A. officials realized the benefits of the program during the 1987 Whittier Narrows earthquake. It led the fire department to step up the training. Since the 9-11 terrorist attacks, CERT has become one of the nationwide programs under the Department of Homeland Security's Citizen Corps umbrella.
Copyright 2013 The Lawrence Journal-World. All rights reserved. This material may not be published, broadcast, rewritten or redistributed. We strive to uphold our values for every story published.