Welcome to our online chat with Paula Phillips, director of Douglas County Emergency Management.
The chat took place on Thursday, September 15, at 2:00 PM and is now closed, but you can read the full transcript on this page.
Moderator: Good afternoon and welcome to our chat today with Paula Phillips, director of Douglas County's Emergency Management Department.
I'm Dave Toplikar, World Online editor, and I'll be moderating this afternoon's chat.
I'd like to thank Paula for braving the misty weather today to come down to our News Center office and join us in today's chat.
Moderator: We have lots of questions already, so we'll go ahead and get started.
Tim-Lawrence: Let's say half of Lawrence was leveled by an F5 tornado and create the destruction of Katrina. Does Douglas County have a plan in place for such an incident and the resources to handle it?
Paula Phillips: Yes, Douglas County has a plan for the management of the response and recovery effort. One of the first actions taken will be to request that the County Commission declare a disaster. This gives us access to state assets and resources. If half of the community were indeed leveled, we would need the assistance of the State and surrounding jurisdictions in the response and recovery efforts. We have existing mutual aid agreements to make such requests for assistance.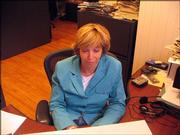 Kim from Lawrence, KS: What is the biggest disaster threat that faces Douglas County on a day-to-day basis?
Paula Phillips: Our hazard analysis plan indicates that the greatest day to day threat is from transportation hazardous materials incidents. This is because of the number of major highways and the railroads that bisect our county. Additionally, there is no way to know exactly how much hazardous materials are in the County at any given minute, and what exactly they are. All public schools in the County are within 1.5 miles of a major road or rail - so there are vulnerable populations at risk.
Mike, Lawrence: What do you believe should be the be the #1 priority for this City/County to work on in improving our comprehensive emergency management efforts?
Paula Phillips: Right now there is a new set of mandates facing first responders and the emergency management community. These federal mandates come under the National Incident Management System initiative and will impact the planning, training, credentialing, equipment, and coordination efforts of all local first responders. Additionally, the mandate requires the use of technology to support these efforts. The biggest challenge for local government is to find the funding resources to fulfill these new mandates.
William, Lawrence: Do the numerous freight trains that pass through Lawrence every day carry hazardous materials such as toxic and explosive chemicals and low-level radioactive waste that could be widely released in an accident? Maybe we often don't know what is being carried.
Paula Phillips: Yes, a recent commodity flow study was completed of both the major highways and rails. The study indicates that hazardous substances do pass through Lawrence daily. We do not know what is being transported unless there is an incident and we need to respond. At that point the transportation provider must provide shipping papers and/or information by telephone of what they are carrying.
Sharilyn: I have some suggestions and wonder whether any of them might be workable?
Some people do not have access to basements during tornadoes. What about opening the community building at 11th and Mass. and the arts center for people that need shelter from tornadoes. I think we should look at already existing resources.
In the outlying areas ask churches if they would like to offer up their basements.
Also other locations and then have a responsible party to open the door in case of sever weather. Also, encouraging people to get flashlights and candles and have food on hand. Maybe a flashlight drive. People become very nervous in the dark. What would a safety plan from the bottom up look like? Thank you.
Paula Phillips: The issue of "public storm shelters" is a difficult one. Since severe weather occurs at any time of the day or night, it is difficult to predict when and where these shelters might be needed. It is unrealistic to expect the city to be able to keep people on call to open and manage such shelters. Citizens can take shelter in their homes if they do so correctly - take shelter on the lowest level, and most interior most room of the lowest level. Avoid windows and doors. This is offers much better protection than going outdoors during a storm to find a basement for shelter.
Both Douglas County Emergency management and the American Red Cross offer literature and on=line resources for creating a personal preparedness plan for the home, workplace, etc. Additionally, we have resources to help you build a preparedness pack for your family. A preparedness pack includes enough food and water for each family member for 3 days; battery operated flashlight & radio; extra clothes; toiletries; copy of any medications; cash; and important phone numbers and resources. This preparedness pack should be kept in your shelter location or in an agreed upon location so that all family members know where to get it when needed. The pack should be taken out every six months - have a preparedness party - eat the food, drink the water, and replenish supplies, clothes, food & water, and batteries. Each family member should be involved in preparedness planning and practice for all types of emergencies. Additionally, since family members may be apart when the disaster occurs, a communications plan should also be a part of the planning. An out of town relative should be designated as the "check-in" person - and each family member must check in with that person. That way, family members can easily be located.
Rich, Lawrence: In the event of a Douglas County emergency evacuation, I would not leave without my animal companion. 1. Would you order pets to be permitted on buses for evacuation (if you can't order this, who can?)? 2. If I were away from home at the start of an emergency, would I be permitted to return there to get my companion and then evacuate?
Paula Phillips: This is an excellent question - but one that is situational dependent. For example, if the evacuation order is issued because of toxic chemicals in the air, no one will be allowed to go into the evacuated area for any reason. If transportation is provided out of the area, only animals designated as companion animals can be evacuated, and only designated companion animals are allowed in shelters.
You would be permitted to return to your home to get your pet when it is safe to do so. We do have a plan that will allow the local veterinarians' group to go into an area to retrieve and/or feed and care for pets left behind. This will occur when the incident command officials determine it is safe for the vets to enter the area.
Connie, Lawrence: I think each bus office should have emergency supply of paper and pencils or pens so if a event occurs while bus is taking people to safety someone can get names of ages and address of who was on the bus, the bus driver is in charge of lists and turns into official at end of his bus run, also need to know how many buses we have and where they are and who drives them, then assigned certain buses to nursing homes etc. organize before a disaster not afterwards
Paula Phillips: These issues are addressed in the transportation annex that is being revised. Officials at the site receiving the re-located individuals will document personal information and turn it over to the coordination center. This information will be a part of a victim location & assistance center to help re-unite individuals separated during an incident.
The bus companies do know how many buses they have and drivers that are available at any given time. And, at each hour of the day, this changes. We know how to access many transportation resources so that any time of the day or night we can provide assistance to nursing homes, etc.
Moderator: How often do local emergency response agencies get together to train for a local disaster? When was the last one and how did it go?
Paula Phillips: Excellent question. We are required to annually conduct a hazardous materials exercise and a public health emergency exercise, and once every five years to conduct a "full scale" exercise of the entire emergency response plan.
We conducted a tabletop exercise in April and August, and have a functional exercise scheduled for late October. The April exercise focused on the roles and relationships necessary during a public health emergency. It was an eye opening experience for most participants. Many "need to do" items were identified, and some are already in the works.
The August exercise focused on the local incident command system. This also was very helpful especially in light of the new NIMS (National Incident Management System) requirements.
The lessons learned from the two table top exercises will be put to use in October when first responders must manage a very large terrorist incident involving a chemical agent. The incident command structure will be implemented and public health issues will be discussed. The October exercise will reveal both strengths and weaknesses and will be the foundation for revising the operations plan.
Rick, Merriam: How did you get your start in Emergency Management and what suggestions would you give someone trying to get in the field. I have a Bachelor's from KU in Communication Studies. I've worked in the transportation field for 6 years.
Paula Phillips: I got into emergency management after a 15 year career in public education. I happened to do really well on the interview for the job! The emergency management profession offers considerable on-the-job training through the federal and state emergency management agencies. FEMA provides almost all of their courses on-line and to anyone.
To be an effective emergency manager requires most of all leadership and facilitation skills. The local emergency manager controls nothing, but is responsible for getting others involved in the emergency management process. This means good communications skills, multi-tasking and organizational skills are essential.
Local emergency management jobs are few and far between - mainly because the offices are usually quite small unless you are located in a major urban setting. Private organizations do hire emergency managers for risk management, contingency planning, etc.
The best resource for a job search is through the International Assoc. of Emergency Managers. Their web site (www.iaem.com) (I think) has a job bulletin board. It is a good place to start. Additionally, organizations like the Red Cross also are considered in the emergency management arena. If you have military experience, FEMA jobs are a good possibility.
There are new degree programs in emergency management at several major universities. You can find these listed on the FEMA web site.
Good luck!
Moderator: That will be our last question of the day. Paula, thanks for taking the time to join us today and respond to our readers.
Paula Phillips: Thanks for the opportunity to dialogue with you - and thanks to those of you who asked questions! Feel free to contact Douglas County Emergency Management at any time if you have further questions, or need planning and preparedness assistance.
Moderator: Our next LJWorld.com chat will be at 2 p.m. next Thursday, Sept. 22, with Douglas County Administrator Craig Weinaug.
Copyright 2018 The Lawrence Journal-World. All rights reserved. This material may not be published, broadcast, rewritten or redistributed. We strive to uphold our values for every story published.