New York — When Mayor Michael Bloomberg sat down to lunch with children during a school visit a few years ago, he was disgusted by the soggy, greasy fries and other junk on their plates.
He pushed for a revamp of school menus and by the start of the next school year, fat-laden meals were being replaced by healthier versions. That same year, 2003, the city began handing out free nicotine patches, and Bloomberg won his crusade to outlaw smoking in bars and restaurants.
Now the city is going after high-calorie foods in bodegas, restaurants and company cafeterias.
Experts say Bloomberg - a bit of a health nut himself - has targeted unhealthy lifestyles unlike any other administration before him.
More than 53 percent of New Yorkers are overweight or obese - lower than the ballooning national 65 percent, but far too high, according to Bloomberg and his health commissioner, Dr. Thomas Frieden. Being overweight raises the risk of diabetes, high blood pressure, cancer and heart disease, which is New York City's worst killer.
Last summer, the health department launched a campaign against trans-fats. Often used by restaurants and in packaged foods, trans-fats are thought to cause cholesterol problems and increase the risk of heart disease.
After restaurant inspectors found that 30 percent of the city's 30,000 eateries were using oils that contain trans-fats, the department began urging a citywide "oil change." Officials sent letters to food service operators and started teaching workers about trans-fats along with their required food safety training.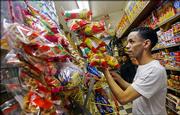 The city plans another survey this spring to measure the results of the project.
Officials next want to tackle portion sizes.
Towering pastrami sandwiches, bagels with gooey schmears of cream cheese and pizza slices that spill over paper plates may be the city's culinary landmarks, but the health department says the Big Apple is out of control.
"Today probably the biggest hazards from what you eat are not food poisoning but the caloric load," said Dr. Lynn Silver, an assistant health commissioner.
So health officials are trying to teach restaurants how to make healthier meals.
Leaders of the state restaurant association - who opposed the smoking ban - have so far supported the health department's dip into nutritional education, but are eyeing it cautiously.
"It's one thing for them to recommend, it's another if they start saying, 'You must do this,"' said Charles Hunt, who leads the association's New York City office.
The mayor's administration is also beginning a venture to change workplace nutrition. Officials are urging some of the city's biggest employers, including Consolidated Edison and large hospitals, to shape up their cafeteria food and vending-machine snacks.
Critics say the administration still hasn't done enough for school nutrition and that many unhealthy items remain on the lunch line. Soda has been phased out, but it was replaced by high-sugar Snapple.
Copyright 2018 The Associated Press. All rights reserved. This material may not be published, broadcast, rewritten or redistributed. We strive to uphold our values for every story published.