Washington — Vice President Dick Cheney spent 4 1/2 hours in a hospital early Monday, but White House officials offered only limited details about what led him to seek treatment.
Officials said Cheney, who is 64 and has suffered four heart attacks, experienced shortness of breath as a reaction to anti-inflammatory drugs he was taking to treat a "pre-existing foot condition." He was taken to George Washington University Hospital, in downtown Washington, at 3 a.m.
The officials said doctors noticed that Cheney was "retaining fluid" as a response to the medication. He was released at about 7:30 a.m. after doctors prescribed additional medicine to relieve the fluid.
The vice president returned to work in the afternoon, and aides said he was feeling fine. But the incident sparked renewed questions about the health of the man who is first in line to succeed President Bush and, as the behind-the-scenes architect of Bush's foreign policy, has emerged as one of the most powerful vice presidents in history.
While White House officials have routinely offered details of Bush's medical checkups and even of Cheney's heart difficulties, an air of mystery hovered over Monday's events.
White House press secretary Scott McClellan repeatedly refused to reveal the details of the foot condition that had prompted Cheney to walk with a cane during public appearances last week. The vice president had even joked that the mystery over his foot problem was "driving the press nuts."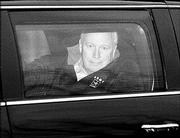 Lea Anne McBride, a spokeswoman for the vice president, could only offer speculation, saying Monday that doctors had not conclusively diagnosed the problem.
"Some doctors have suggested it might be gout, but he does not suffer from the acute pain usually associated with gout, nor does he have raised levels of uric acid in his blood, which is also associated with gout," she said. "Other doctors have suggested that osteoarthritis is the cause."
Copyright 2018 The Lawrence Journal-World. All rights reserved. This material may not be published, broadcast, rewritten or redistributed. We strive to uphold our values for every story published.