Baghdad, Iraq — U.S. aircraft bombed a building where suspected insurgents were hiding north of Baghdad, killing seven people and wounding four, Iraqi police said Tuesday.
The bombing took place late Monday in Beiji, site of Iraq's largest oil refinery, said Iraqi police Capt. Arkan Jassim, who reported the casualty figures.
The U.S. military did not comment on the deaths. It said only that an unmanned aircraft spotted three men planting a roadside bomb in the city 155 miles north of Baghdad, and that Navy F-14s bombed a nearby building the three had entered.
In northeastern Baghdad, the sister of Iraqi Interior Minister Bayan Jabr was kidnapped Tuesday by gunmen who killed one of her bodyguards and seriously wounded another, said Adnan Thabet, commander of the Interior Ministry's special forces.
In other violence, eight people were killed Tuesday in three attacks in Baghdad.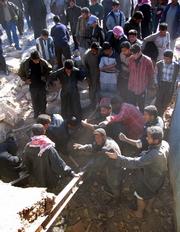 Meanwhile, an international team began reviewing the hundreds of complaints filed over Iraq's parliamentary elections, and an Iraqi elections official said Tuesday that results might not be ready for two more weeks.
The Independent Electoral Commission of Iraq has completed its investigation of almost 2,000 election complaints and will announce the findings today, commission member Hussein Hindawi told The Associated Press.
But the commission won't announce final election results until an international team finishes its work, meaning they might not be ready for two weeks, said commission member Safwat Rashid. Officials previously said final results of the Dec. 15 vote would be announced in early January.
The international team, which began its work Monday, agreed to review Iraq's elections after protests by Sunni Arab and secular Shiite groups that the polls were tainted with fraud.
Copyright 2018 The Associated Press. All rights reserved. This material may not be published, broadcast, rewritten or redistributed. We strive to uphold our values for every story published.