A longtime security business is starting its 30th year in business under new ownership.
Dave Rueschhoff, who founded Rueschhoff Locksmiths and Security Systems in 1976, has sold his shop that handles installation and services for security and fire alarm systems, plus other systems such as central vacuums, intercoms and closed-circuit television operations.
Stepping into ownership is Grant Eichhorn, owner of Eichus Building Services and a former Rueschhoff employee. He now leads a team of 18 employees whose focus is on clients, and providing them with personalized local assistance.
"Our goal right now is to focus on customer service - making sure our existing customers are happy and get some of our old ones back," Eichhorn said.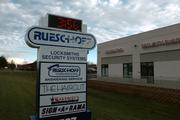 Customers are being told to expect few other changes at Rueschhoff, based at 3727 W. Sixth St.
There have been few employment changes during the transition, other than the return of Warren White as security system manager. White had worked at the company for 15 years, running Rueschhoff's alarm business through 1999.
"It's still Rueschhoff Locksmiths and Security Systems," said Don Stowe, who has worked for the company for 18 years and continues as locksmith manager. "It's the same thing."
Rueschhoff's wife, Lisa, continues to own Rueschhoff Communications Inc., which provides 24-hour monitoring services for security and fire alarm systems. In a letter to customers, David Rueschhoff said that Rueschhoff Communications would be upgrading its central monitoring station to improve services.
Copyright 2018 The Lawrence Journal-World. All rights reserved. This material may not be published, broadcast, rewritten or redistributed. We strive to uphold our values for every story published.